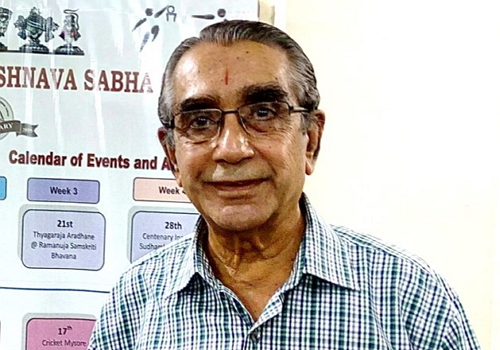 Chairman's Desk
Dear Mandayams,
"Happy Centenary year greetings from The Mandayam Srivaishnava Sabha".
We are happy to inform you that your glorious Sabha is celebrating 100th year of existence.  This is a Milestone Event in the history of Sabha, which withstood the test of time, despite facing many difficulties in its saga of long journey.  It is a pride to be part of the community at this juncture and fortunate to celebrate centenary year 2016.
This is a once in a life time event.  In order to celebrate the event in a grandiose manner, the Sabha has made elaborate plans.  The events and respective leaders are as shown in separate pages.  The programmes are spread all over the year with 'curtain raiser' as a religious function 'Sudharshana Homam' at RPAC, Melkote on 28-02-2016 and the 'Grand Finale' at Jnana Jyothi Auditorium, Central College Campus, Bangalore on 24-12-2016.  The intervening 10 months would witness various sports activities both at Bangalore and Mysore, Food and Craft festivals and Exhibition, a seminar, an exclusive Bangalore South Mandayams cultural show at JSS Auditorium, Jayanagar on 24-07-2016, release of second part of Mandayam Srivaishnava history, release of Centenary Souvenir, a membership drive to enrol 1000 more members, Mandayam Youth Forums' exclusive events etc.  Schedule is made in a way to facilitate NRI Mandayam Diaspora.  The entire Centenary Annual Calendar and programme details would appear as a separate Centenary Booklet in the coming issue of 'Mandayam News' expected to be released by mid Feb-2016.
You will appreciate the Sabha, given its meagre finances require 'Funds' for the mega event.  Your generous donation, sponsorship and advertisements would greatly help.   It is worth recalling the extraordinary philanthropy of Late Dewan Bahadur M O Parthasarathy Iyengars' donation of Rs. 1 Lakh as seed money in 1916 to start the Sabha.  Looking at the recent contribution of our community members of Rs. 3.2 Crore towards reconstruction of MVN, Mysore, it is a standard example of Mandayam pride.  Kindly cooperate and offer your generous donation to enable the Centenary Committee to celebrate the event in a grand manner.  I thank all the 'Leaders' for taking up the responsibility and Sri. MT Ravi Narasimhan and Sridhar Mandayam for their unflinching coordinating work.  This is a great opportunity for a 'Kainkaryam' for every Mandayam to his Sabha.
Natampally Narasimhan, Chairman, Centenary Committee.
Sudarshana Homa at MVN, Melukote  (28th Feb, 2016)