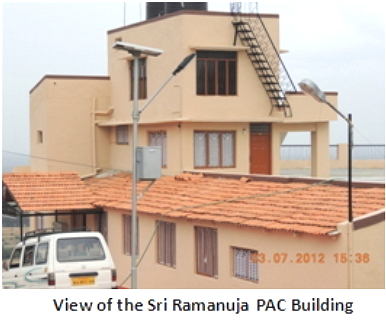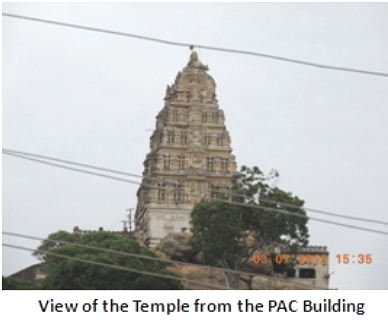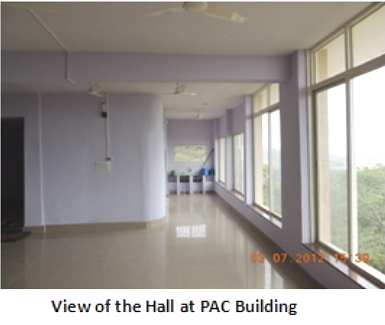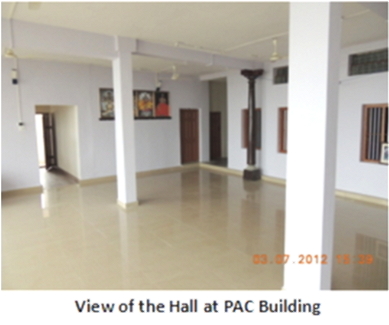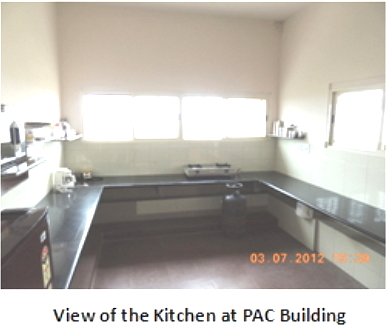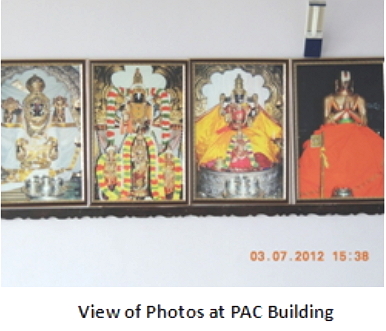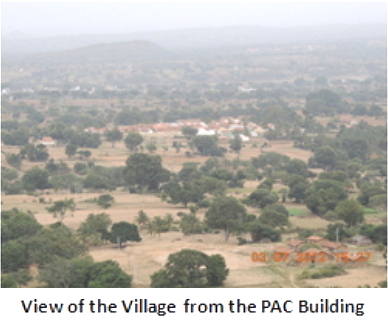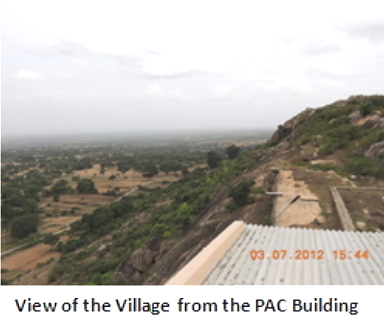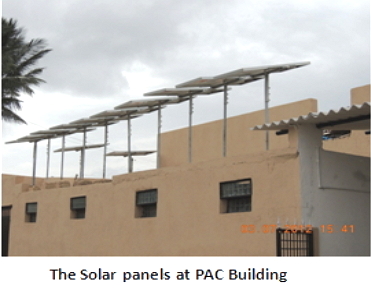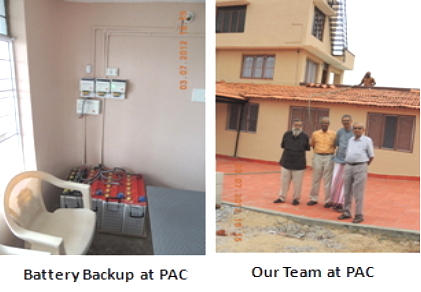 Sri Ramanuja Pilgrim Assistance Centre (RPAC)
Lakshminarasimhaswamy Temple Road, Moodabagilu, Melukote
The Mandayam Srivaishnava Sabha has established RPAC at Melukote with a view to assist pilgrims with a comfortable and decent accommodation to stay and visit temples. The RPAC is situated half-way up the road leading to the Yoga Narasimhal Hill Temple and commands a very beautiful view of the valley. The Centre is open for all pilgrims.
The Centre has 9 rooms, all with attached bathrooms with continuous running water supplied by a bore-well and overhead tanks. All rooms are provided with cots, mattresses and fans. In view of perpetual power shortage, hot water for bathrooms is supplied by biomass fired boiler. All rooms are provided with lights and fans, powered by Solar electrical system, so that there is uninterrupted power supply to all the rooms when KEB Power fails.
The Centre also has a modern kitchenette with Electric Coffee maker, Microwave, Refrigerator and Gas stove for use of guests. Aquaguard is provided to ensure quality water for consumption.
The Centre also has a big hall/lounge where discourses and lectures can be arranged for an audience of about 50/75 people. The elegant layout and the view is ideal for small functions like Birthdays, Upanayanams, etc. for gathering up-to 100 people. In fact recently a marriage with about 100 guests was performed.
At the rear side, a kitchen suitable for mass cooking for about 200/300 people has been built with suitable firewood stove. Platform for Puliyogare preparation etc. Vessels, Shamiyana, Lights, Nagaswaram and other facilities can be arranged.
A group of say 15/20 people, could come the previous day, stay overnight and plan a function like Birthday or Upanayanam or even marriage on the next day for about 100/120 people. Food can be prepared in the rear kitchen for the function.
The rooms have to be reserved in advance and will be done on first cum first serve basis. Persons desirous of booking rooms may contact anyone of the following persons:
M.C. Krishna         94498 02929    (Email: [email protected])
M.A. Dwaraki        94494 44382    (Email: [email protected])
M.K. Srinivasan    080-41127295
G.C. Nagaraj          99454 42337 (Caretaker)
HOW TO REACH MELUKOTE
There are two routes from Bangalore to reach Melukote, which is about 150 Km. The route via Nelamangala/Kunigal/Bellur Cross/Nagamangala is a highway with less traffic and one can reach the destination within about 2 ½ hours. The other route is via Mandya, (Bangalore-Mysore Road) and deviation of about 35 Km via Jakkanahalli. This will take about 3 ½ hours, as the traffic on Mysore Road is heavy. Melukote can also be reached from Mysore, which is about 50 Km, by road via Pandavapura/ Jakkanahalli.
KSRTC runs buses to Melukote from Bangalore. While 2/3 buses only go directly to Melukote, quite a few buses going to KR Pet and Shringeri, touches Melukote. Alternately, plenty of buses going to Hassan/Mangalore can be utilized to go up to Bellur Cross, from where another bus will have to be taken to Jakkanahalli/Meulkote.
National Travels operates 4 to 5 buses to Melukote every day commencing at 6.15 AM, 7.30 AM, 8.30 AM, 10.30 AM, 1.45 PM & 4.45 PM and these buses start from Srinagar near Hanumanthanagar. Passengers can board the bus near Navrang Theatre or Yeshwantpur also. Mr Raju of National Travels can be contacted at Mobile: 99025 28107 and exact time of arrival of their buses at various stops can be ascertained.
ARRANGEMENTS FOR FOOD/COFFEE ETC.
Guests who wish to prepare Coffee/Tea or light snacks and simple food themselves can utilize the Kitchen facilities, at a nominal cost by utilizing vessels, and facilities available.
Wholesome vegetarian food can be arranged to be brought from Subbanna Mess, by stainless steel tiffin carriers, available at the Centre. However, if more than 10 guests are requiring food, the Mess will cater it to the Centre. The telephone Nos. of the Mess are as follows:
(1) Mr. Subbanna – 94483 83775
(2) Mr. Shankara – 98435 41738
TIMINGS OF TEMPLE
Tirunarayana Temple – 8 am upto 1.30 pm, 5 pm to 8.30 pm (Ph: 08236-299839)
Yoga Narasimha Temple – 8 am upto 1.30 pm, 5 pm to 8.30 pm (Ph: 98445 17160)
(Hill Temple) For people who cannot climb and who need Palanquin (Doly), please contact Vijayakumar at 97311 33542 /08453093057
GUIDELINES FOR STAYING (at RPAC)
Melukote is a sacred place and it is the duty of everyone to maintain sanctity. Smoking, consumption of Alcoholic beverages and non-vegetarian food are prohibited during the stay at the Centre.
SECURITY
A caretaker and his family stays at the Centre and round the clock security and service is assured.
LOCAL TRANSPORT
For persons who arrive by bus, autorickshaws are available for local transport between bus stop/temple/nearby places. The telephone numbers of autorickshaws are as follows:
1) Ravi – 99003 65699
2) Nandish – 99728 36208
3) Raghu – 99459 16249
4) Krishna – 99804 44652
5) Venkatram – 99452 38705.
NEARBY PILGRIM CENTRES WITH CONTACT PHONE NUMBERS
a) Thondanur – Nambi Narayana / Ramanujacharya Moti Talab etc. About 10/12 Km on way to Pandavapura.
Contact Numbers
1) Raghuram Bhat – 08236-251795, 94493-72453
2) Ramegowda – 99003 51437
b) Nagamangala – Keshava Perumal / Yoga Narasimha. About 30 Km from Melkote.
Contact : Mr. Tirunarayana – 94487 50603
c) Karighatta – Sri Venkateshwara/Srinivasar temple.
d) Srirangaptna – Sri Ranganatha Temple.
e) Manikarnike (at Baburayan koppal) – Sri Gunja Lakshmi Narasimha Temple.
Preist : Ranganath & Prashanth – Tel 9972662808
f) Kirangoor – Birth place of Sri Anandalwan.
Contact: Sri Ananthachar 9448836913
g) Kallahalli, K.R. Pet – Varahaswamy – 18 Feet Idol & Hemagiri Water Falls.
h) Mandya – Sri Lakshmi Janardhana Swamy, 30 Km from Melukote.
Contact:
Sri Sheshadri Bhattar    0232 229462
Sri Harish Bhattar         9902429897
Sri Narasimha Prasad    9880039223
i) Malur – Sri Aprameya Swamy & Ambegalu Krishna, On Mysore Road near Channapatna.
Contact: Mr. Ramaprasad – 27200022/27200023
j) Maddur – Ugra Narasimha, Sri Varadaraja Swamy (15 ft high), On Mysore Road.
k) Dudda – Lakshmi Narasimha (on Mandya Jakkanahalli Road)
Contact: Mr. Narasimhan 08232 277497.