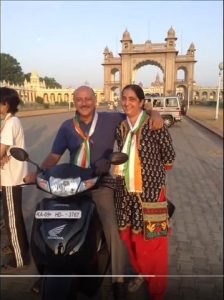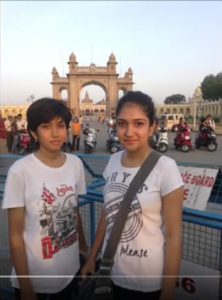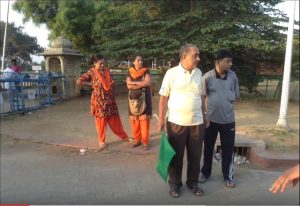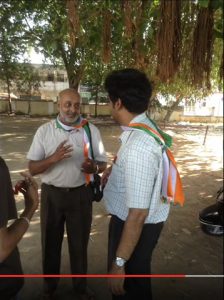 CENTENARY CELEBRATIONS SPORTS ACTIVITIES REPORT ON TREASURE HUNT HELD ON 24 APR 2016 AT  MYSORE
The Mysore champions of Mandayam Srivaishnava Sabha, left no stones unturned to conduct, FIRST OF ITS KIND SPORTS ACTIVITY in Mysore as a part of Centenary Celebrations. It deserves a special mention, that the event was well conceived, planned meticulously and executed with clock-work precision. The entire credit for the success of the event goes to Smt Srivani Uday and her team.  Total of 18 locations (points) were selected and posted with spot boys. each point had a clue for the next point which were given to the participants. After due diligence of the complete documentation like driving license, RC book by the organizers, the teams were raring to scoot.
The event was inaugurated by flagging off the first team by Sri M A Ram Prasad, Treasurer of the Mandayam Srivaishnava Sabha.
CCC and the Mysore champions sent out regular communication to all concerned using available communication channels to get registration by members. This resulted in 12 teams taking part in the event. Total of 10 men and 14 ladies took part. It is to the credit of Mysore that 4 all ladies team took part. All teams participated with zeal and vigour in a truly competitive spirit. The first team completed the course in 96minutes and the last team in 180 minutes.
The organizers and the points man were congratulated on their excellent effort by Col M D Sesh Narayan, Leader sports, Centenary Sports. Prizes were given away by Sri Mathre Sampath and Smt. Pushpa Mathre
Mysore Mandayam's, both youth and seniors had a memorable day.  Members from Bangalore also joined the group. Senior spectators enjoyed the grit and determination displayed by the participants. Hearty conversation ensued over well spread and sumptuous break-fast at Mandayam Vidyarthi Nilaya, everyone left with a resolve to participate in more numbers in the ensuing events.
The entire event was a grand success.
CONGRATULATION ALL WINNERS
WINNERS MEN
1.       BADRI MV
2.       PRAKASH
RUNNERS UP MEN
1.       SARATHY M A
2.       SRINIVASAN M A
WINNERS LADIES
1.       PADMASHREE M K
2.       NANDINI RAGHU
RUNNERS UP LADIES
1.       MALINI SRINIVASAN
2.       PADMINI SRIDHAR
CCC CONGRATULATES AND THANKS ALL PARTICIPANTS, VOLUNTEERS, MYSORE CHAMPIONS AND MYSORE POLICE  IN MAKING THE EVENT A GRAND SUCCESS.