Youth Forum – Leadership Nurturing Program
The global environment is ever changing. With change in global economy situations, job opportunities are becoming tougher, demand for leadership skills and soft skills, over and above academic excellence, are becoming severe and with job cuts in many large industries the competition at every stage is becoming fierce. For the next generation Mandayam Youth to blossom into a well groomed professional, it is essential that there is an all round 360 degree mentoring and talent nurturing program implemented in a phased manner.
It is a well known fact that we have a huge "bank" of talent among Mandayams.  Our elders as well as the present generation of Mandayam professionals have excelled in various fields of education, social, cultural, sports and executive cadres. The think tank at Mandayam Srivaishnava Sabha has been contemplating a number of initiatives to help the future generation (Next Gen) Mandayams. Already a few gatherings of the young Mandayams have been organized that has resulted in good networking and communication among the Next Gen folks.
The New Program Structure
We have now come up with a new and innovative program to nurture the talent of our young Mandayams. Through a series of focused, interactive joint sessions with the Next Gen Mandayams, we have started mentoring them in a "direct contact" mode. The idea is to transition the expertise and experience that the senior Mandayam professionals have acquired over years of hands-on the job in various executive and management positions at prestigious organizations to the Next Gen Mandayams. And the mentoring program is not limited to enabling them on professional work culture but also groom them on many other skills including soft skills, leadership skills, social and cultural aspects of life, balancing work and life and above all learning basics of Mandayam Sampradaya itself. We are working actively to convince our own internal Gurus in many of the above fields to come forward and share their experiences with the Next Gen Mandayams.
We have also initiated the "Guest Lectures" series in which we are inviting specialists to speak on topics in various fields including Vedic Mathematics, Music, Entrepreneurship, Social & Cultural aspects, communication skills and many more.
Here are a brief set of program topics that we will be organizing after discussions with Next Gen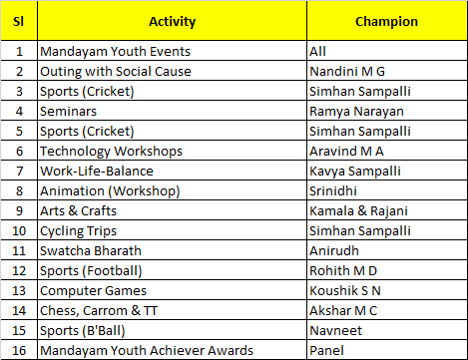 participants. We also plan to have separate programs for Women Mandayams. A sample list of topics that we intend to cover in these programs is given in the attached table. The topics will evolve as we build the mentoring process for the Next Gen Mandayams.
We have organized sessions in the vicinity of Yethiraja Mutt premises at Malleswaram, Bangalore and already several sessions have been conducted successfully. Typically we organize one session of around 2 hrs per month. The participants are given opportunity to learn and develop thought leadership in their field of specialty as well as the smartness to carve out their career progression to the best possible position depending on environmental conditions. Sessions to develop/improve their communications skills will help in facing challenges in life better.
Youth Forum Leader: M. A. Parthasarathy
M. A. Parthasarathy, formerly an AVP at Infosys Technologies Ltd., Bangalore has been in the IT industry for more than a decade and has a wide range of experience in software technology, IT business, people management and IT operations. Winner of Infosys Excellence Awards for a record 4 times, he has also published a book on software estimation titled "Practical Software Estimation – Function Point based methods for In-Sourced and Out-Sourced Projects", by Addison Wesley, 2007. Partha can be reached at: email: partha.ma (AT) gmail.com, Mobile: 91-9880648795.
Youth Forum – Events & Activities Spectrum