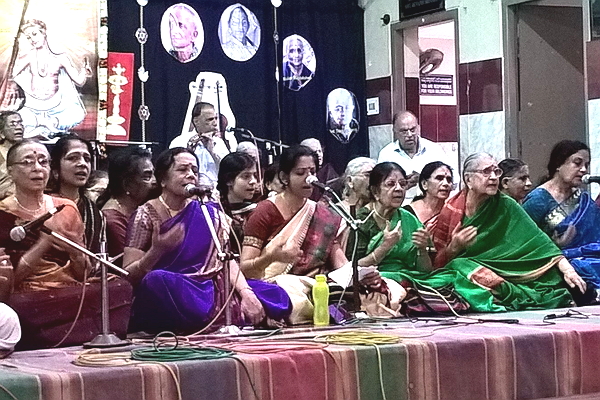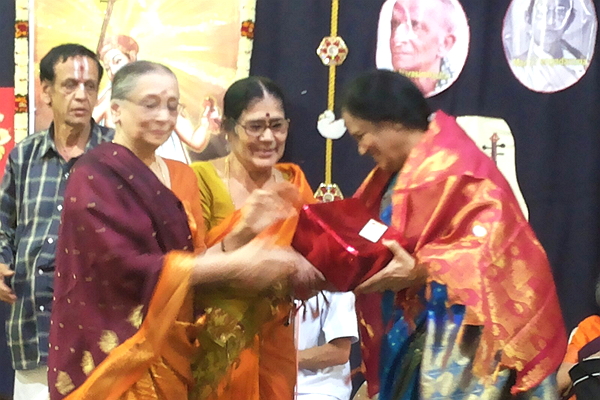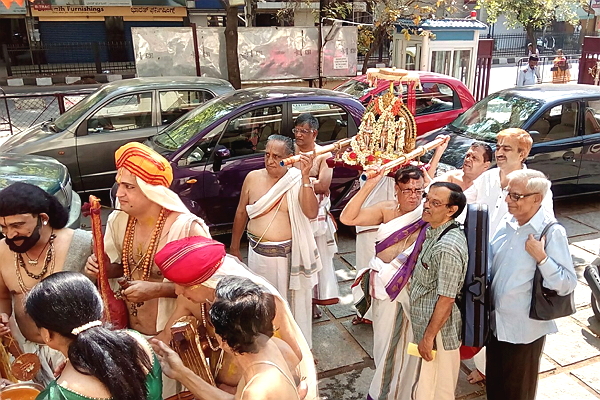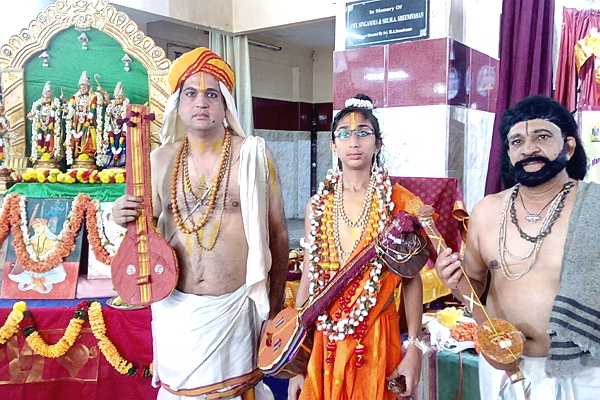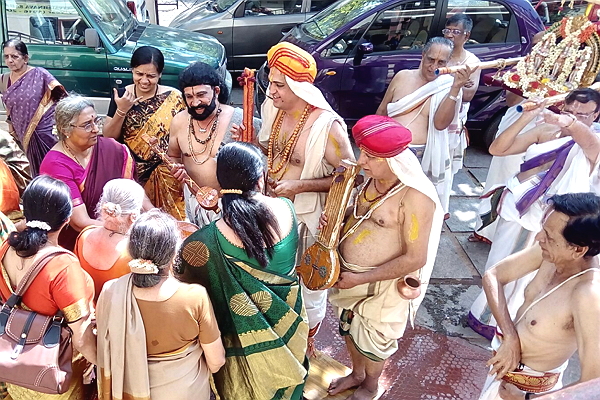 Thyagaraja Aradhane Celebrations – 2016
The first event of Sabha in 2016, Thyagaraja Aradhane celebrations were held on Sunday 21st  February at Sri Ramanuja Samskruthi Bhavana .The event was planned by Kum M. A. Kunthala along with other members. Smt Sujata Vasan ,Smt Jaya Char and family who have been designing the stage and deity since a decade were present the previous day and had brought all the necessary items .They were assisted by Shri M. D. Shesh Narayan , Mr R. A. Madhu,
Smt Rekha Badri, Smt Rajani Rajesh, Smt Kavya Simhan and Shri Simhan in setting up stage and Deities.
The program started @ 10 am with half hour delay with procession of idols of  Shri Rama, Lakshmana, Sita and Hanuman from Sri Venugopalaswamy temple. Three of our community members dressed as Purandara Dasa(Shri Parthasarathy), Thyagaraja(Sampath M. A), and Kanaka Dasa(Makaram Srinivasan) accompanied the procession.
After a soulful invocation song by Kum Aishwarya Manikarnike, Sabha President Shri M. D. Jayasimha welcomed the gathering. He briefly spoke about the glorious history of the Sabha, traditions and recalled the services of some of the senior members of our community. Shri Natampally Narasimhan spoke about the Centenary celebrations and the various activities planned throughout the year, like exhibition, souvenir, second part of our community history book, membership drive, funding, cultural programs etc. Next was the singing of compositions of Purandara dasa and Kanaka Dasa.
"Swararnava Arpana" was a play directed by Smt Malathi Singlachar scripted by Smt Dwaraki Krishnaswamy and enacted by enthusiastic group of our youngsters. Smt Malathi Singlachar apart from directing the play had also done costume design and makeup of all the artistes. The stage backdrop carried photos of some of the leading musicians of our community like Sri M. A. Narasimhachar(Sangeet Natak Akademi Award  winner), Smt M. B. Singamma, Smt Manni Vengadamma, Sri  M. D Parthasarathy etc. A brief accomplishments of the artistes was read out.
Smt Radha Srisailam was honoured during the days program with a Shawl and fruit bowl for her musical accomplishments. The last event was Pancharathna Keerthana – Goshti Gayana accompanied by Vidushis and Vidwans of string instruments and percussions.
The entire event was webcast live by Rekard and sponsored by Shri Mathre Rangarajan, who has been continuously sponsoring webcasting of all the Sabhas cultural events.
This was followed by Shatumurai for the deity. The Secretary thanked all the participants, the donors, volunteers, Sri  Ramanuja  Samskruthi Bhavana for providing space, the cultural committee chairman etc. Thadheeyaradanam was provided at the venue.
Narasimhan M.T (Ravi)