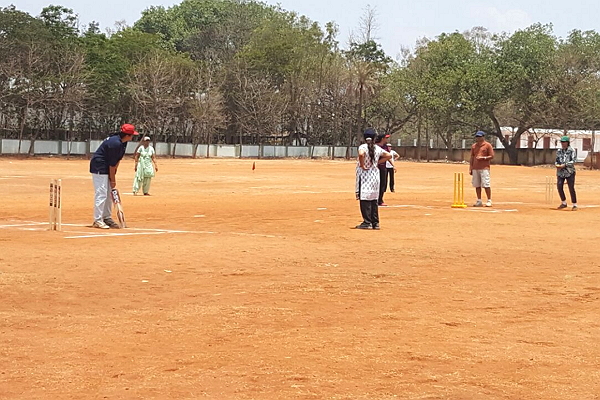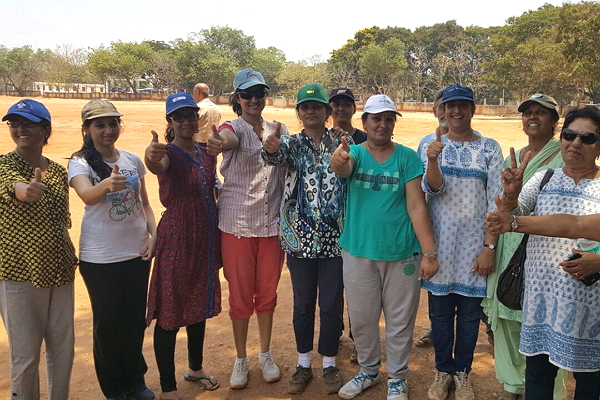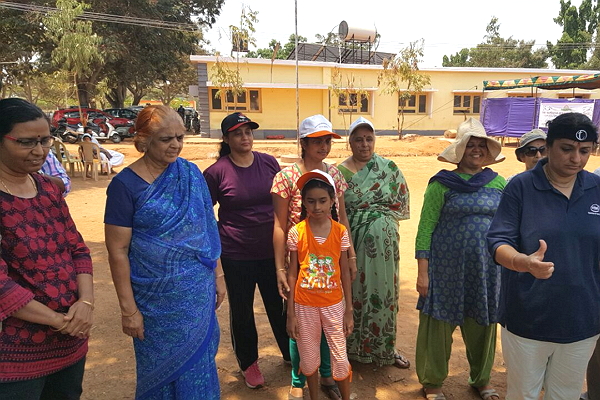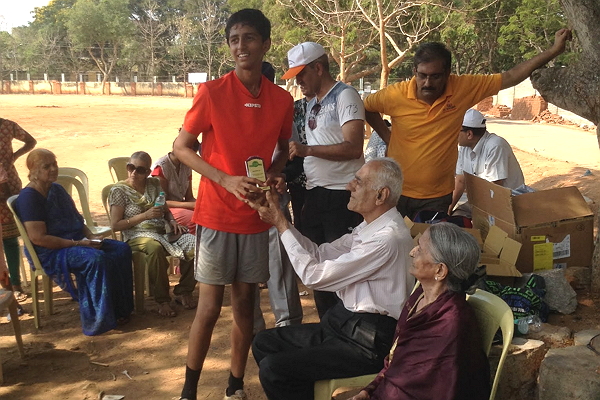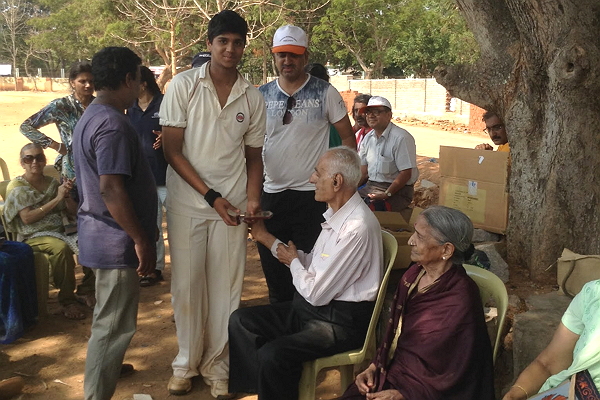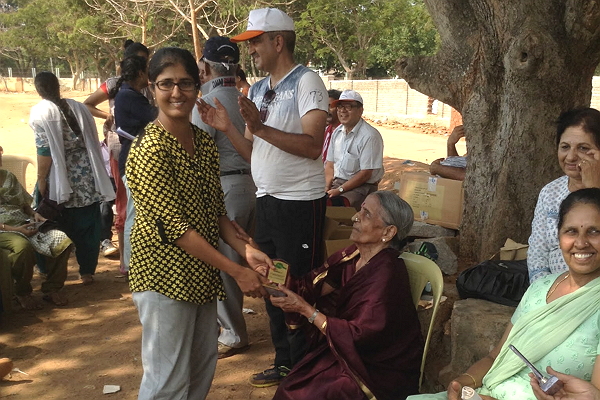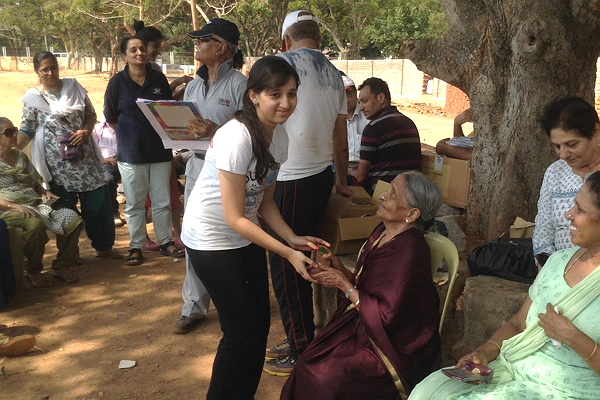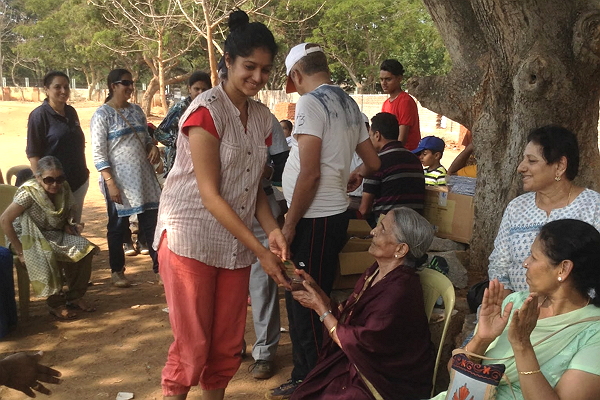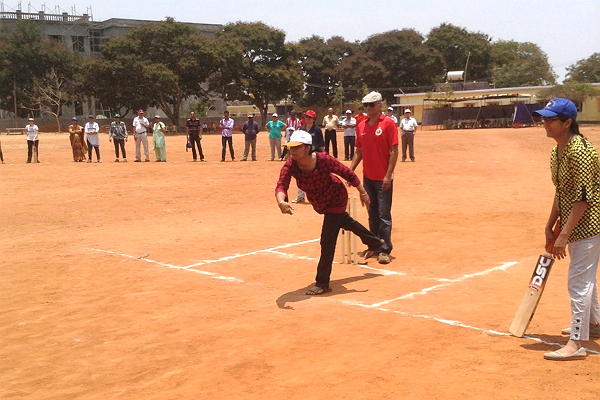 CENTENARY CELEBRATION SPORTS ACTIVITIES REPORT – "CRICKET TOURNAMENT"  CONDUCTED ON 17 APR 2016,  AT COFFEE BOARD GROUNDS MYSORE
The Mysore champions of Mandayam Srivaishnava Sabha put in their best, to conduct the "Curtain Raiser" Inaugural sports activity at Mysore as a part of Centenary Celebration. The ground was well decorated and kept ready for the participants to start the tournament.
The highlight of this Inaugural sports event was that, it was totally sponsored by the members of "Pustakam" family, in memory of Late Sri P A Char.  Late Sri P A Char was an illustrious sports person, with high skills in various sports discipline, like Cricket, Kabbaadi, Kho-Kho and Athletics. He was a 'Test Umpire' for cricket and had umpired more than 25 test matches. He was a thorough gentleman, with high acumen and dedication.  The Mandayam Srivaishnava Sabha wish to dedicate all 'Cricket Tournament' organized to be in the name of 'Sri P A Char Memorial Cricket Tournament' in its 'Centenary Annual Calendar of events – Cricket Tournament'.
The event was inaugurated by Smt. P A Char releasing balloons which soared high as the fame of Sri P A Char. Sri N Narasimhan, Chair person of the Centenary Celebration Committee (CCC) spoke on the occasion, and thanked the sponsors for their gesture and requested others to come forward in the same manner. Sri M D Jayasimha, President of The Mandayam Srivaishnava Sabha, could not attend the event due to unforeseen commitments.
CCC and the Mysore champions sent out regular communication to all using all communication channel to get the registration by members, which paid good dividend. The participants evinced keen fervor and spectators cheered the participants. the event commenced on time, with 3 men's team and 2 ladies team, playing in true competitive spirit in all earnestness. Members from Bangalore teamed up with the Mysore members and played a friendly match against the winners of the men's event. The sizzling sun did not dampen the spirits of the young and old as well. This marked a landmark event for the first time in the recent past that the Mysore Mandayam's congregation has been so encouraging. CCC compliments the resolute effort put in by all the champions to make this event a grand success.
Mysore Mandayam's, both youth and seniors had a field day.  Some members from Melkote and Bangalore also joined the group. Senior spectators enjoyed the skills displayed by the participants and remembered their good old days. The whole hearted participation by one and all was commendable.
The entire event ended with a note of grand success.
CONGRATULATION ALL WINNERS
WINNERS MEN
1.       NIKHIL
2.       ANUSH.
3.       AARYAN M K.
4.       NARASIMHAN G V
5.       SRIKARA MANDAYAM
6.       PRAKASH.
7.       SRIKANTH.
8.       SAMPATH M J.
9.       SAMPATH KUMAR (RAJA)
10.   RAGHU M K
11.   SRINIVASAN M A
12.   ARIYAR PARTHASARATHY
13.   RANGARAJAN.
14.   KESARI
15.   RAGHUNANDAN.
16.   CHARAN Y G
17.   KRISHNA KUMAR MANDAYAM
18.   SARATHY M A
RUNNERS MEN.
1.       TEJAS.
2.       RAMANUJA.
3.       AADITYA
4.       AASHISH U MANDAYAM
5.       ABHISHEK
6.       UDAY.
7.       MOHAN.
8.       BADRI.
9.       RAMASWAMY M T.
10.   NARAYAN M T.
11.   RAGHAV
WINNERS LADIES.
1.       PADMASHREE
2.       NAGAMANI
3.       PADMA RANGARAJAN
4.       RADHIKA
5.       PUSHPA SIMHA
6.       VASANTHA M T
7.       APOORVA.
8.       PADMAJA
9.       PADMINI
RUNNER LADIES.
1.       SRIVANI
2.       ANAGHA
3.       REKHA
4.       NANDINI
5.       SHALINI
6.       VAISHNAVI
7.       LATA
8.       ANUSHA
9.       LAVANYA
10.   RAMYA NARAYAN
Centenary Celebration Committee thanks all the participants, volunteers, champions and the coffee board grounds administration in making the event a grand success.