MSS – GLOBAL MANDAYAM CELEBRATIONS 2021
MANDAYAM DIGITAL LIBRARY – LATEST ADDITIONS
MANDAYAM DIGITAL LIBRARY DASHBOARD
Total Number of Books:       235                   New Book Arrivals:    10
Total Number of Authors:     61                    New Authors Added:  1
| Sl. | Title of Book | Author | Domain | Category | Language |
| --- | --- | --- | --- | --- | --- |
| 1. | Suma Sanchaya | M. A. N. Prasad | Novel | Musings | Kannada English |
| 2. | Gulliverana Desha Sanchaara | S G Narasimhacharya | Children Books | Fiction | Kannada |
| 3. | Bhagavadgite | Smt. M A Singamma and Smt. M D Vedavalli | Hinduism | Bhagavadgita | Kannada |
| 4. | Neethi Kathegalu (Makkalige Madhu) | Jaggu Priyadarshini | Children Books | General | Kannada |
| 5. | Kandhara – Kaamadhenu | Jaggu Priyadarshini | Children Books | Fiction | Kannada |
| 6. | Srikrishna | Singaramma M N (Sridevi) | Hinduism | Puraana | Hindi |
| 7. | Bhagavan Raamaanuja | Prof. Dr. M. A. Lakshmithathachar | Srivaishnavism | General | English Kannada |
| 8. | Tiruvaymozhi Emba Sahasra Gadhatmaka – Dravida Divya Prabandha – Part 1 | M T Narasimacharya (Kalki Simha) | Srivaishnavism | Divya Prabhandam | Kannada |
| 9. | Tiruvaymozhi Emba Sahasra Gadhatmaka – Dravida Divya Prabandha – Part 2 | M T Narasimacharya (Kalki Simha) | Srivaishnavism | Divya Prabhandam | Kannada |
| 10. | Tiruvaymozhi Emba Sahasra Gadhatmaka – Dravida Divya Prabandha – Part 3 | M T Narasimacharya (Kalki Simha) | Srivaishnavism | Divya Prabhandam | Kannada |
Sri Yadugiri Yathiraja Mutt and Its Achievements
On 12th Aug 2018, Sri Jai Krishna Anand Hall, Sri Ramanuja Samskruthi Bhavana, was humming, with activities from morning. It had a festive look with a large number of Sabha members gathering to learn about Sri Yadugiri Yathiraja Mutt and Its Achievements. Sri Sri Yadugiri Yethiraja Narayan Jeeyar Swami, the 41st Jeeyar of the Mutt was received ceremoniously with PoornaKumbham and Veda Gosham, led by Sri Mathre Rangarajan. The event commenced with a harmonious invocation song by Sri M V Narayan. Col M D Sesh Narayan, President MSS, welcomed the gathering with a brief background on the genesis of the presentation and sought the blessings of Sri Jeeyar Swami. Smt Radha Rangarajan, VP MSS, introduced the speakers and summarized the day's programme. Smt Andal, in her melodious voice, rendered Ramanuja Geethe, scripted by Sri Jeeyar Swami. Sri R A Madhu excelled as the master of ceremonies in his singular style.
U Ve Dr M A Alwar, who has in-depth knowledge of the History of Sri Yadugiri Yathiraja Mutt, gave a presentation on the subject. He highlighted achievements of the earlier Jeeyar Swamis of the Mutt as well as their extensive knowledge in various subjects like Tarka shastra and Aagama shastra.  He also emphasized on the path forward and need of parenting the future progeny in the customs and traditions of Mandayam Srivaishnavas.
This was followed by a short Kannada Kavana, on the achievements of Sri Yadugiri Yathiraja Mutt, written by Sri M V Rangarajan and delivered by Sri M V Parthasarathy Iyengar, in his distinct style. Sri Natampally Narasimhan, a store of knowledge, spoke on achievements of the Mutt, under the able leadership of the present Jeeyar Swami. He covered all salient points from Jeeyar Swami's Pattabhisekam till date, highlighting the Mutt's vibrancy under the Swami's dynamic administration.
Finally Sri Jeeyar, in his ashirvachanam, informed the gathering that every activity happening in the Sri Mutt, is as ordained by Sri Bhagwad Ramunuja and that Swami is being guided by Sri Ramanuja, in every step like a mother who teaches her child to walk.
Sri M T Narasimhan, Secretary MSS, gave the vote of thanks and thanked Srikaryam for his support in all the activities of the Sabha. He also thanked Sri Yathiraja Ramanuja Trust office bearers for their unflinching support in providing the venue and arranging the Tadiyaaradhane. Delicious food prepared by the team of Sri M K Varadarajan, was served for Tadiyaaradhane and relished by the members.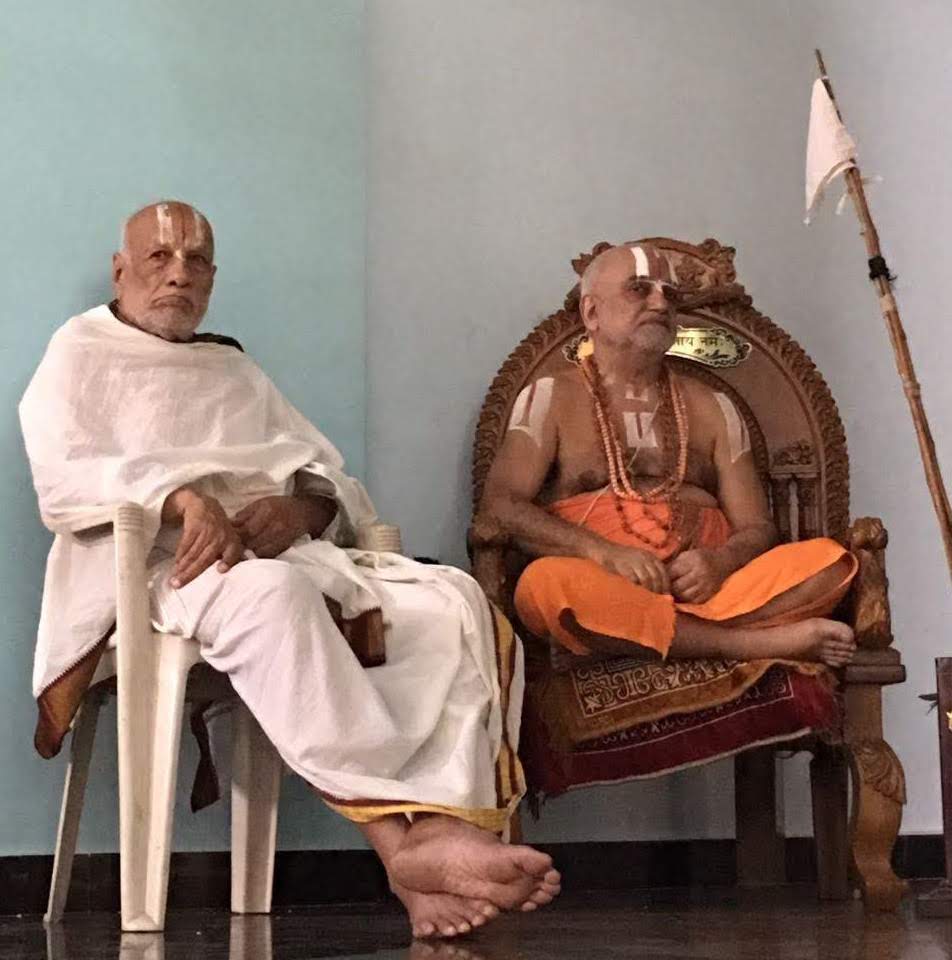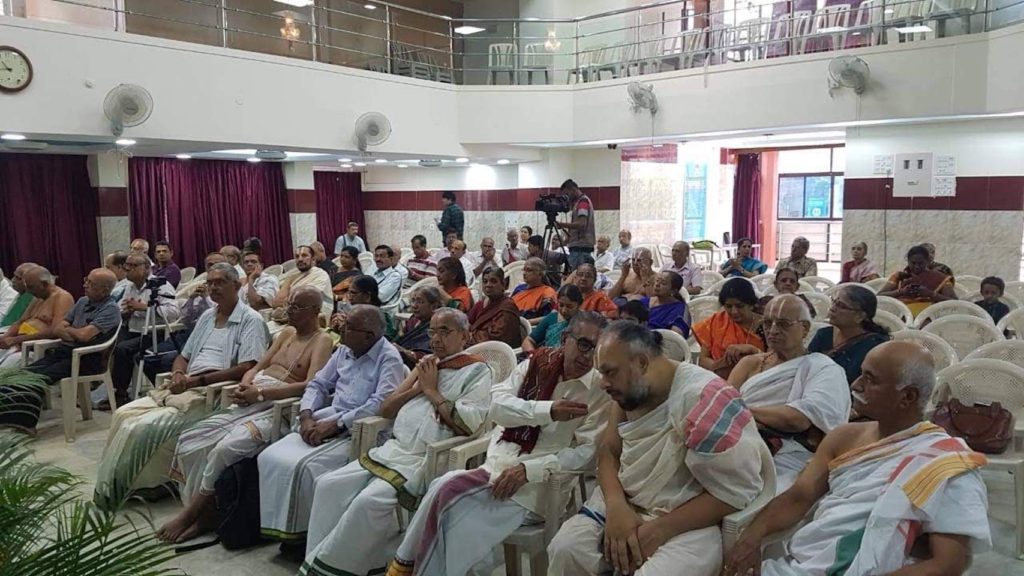 EMINENT MANDAYAMS – HALL OF FAME