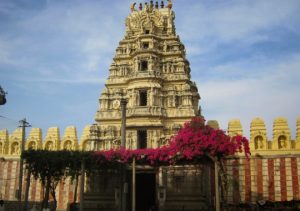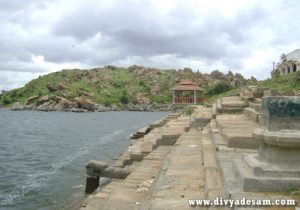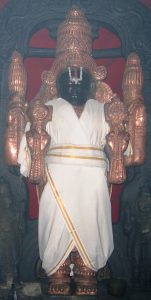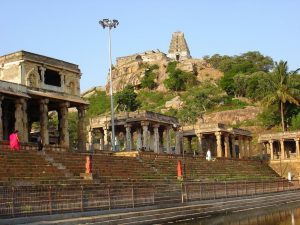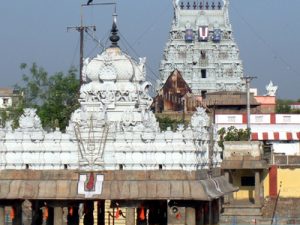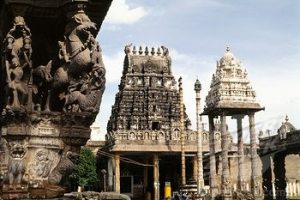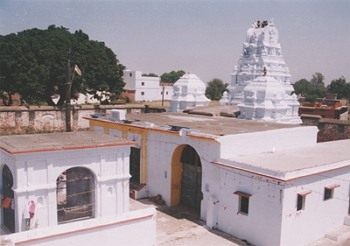 HISTORY OF MANDYA TEMPLE
Information as to who first built Janardhana temple is not available. The Moolavar has Shankha, Chakra, Mace as is normal in all Chaturvimshati temples and Abhaya Hasta. The worship is carried out as per Vaikhanasa tradition though in this tradition Moolavar will not have Abhaya Hasta.
HISTORY OF MALUR TEMPLE
Malur Agrahara (Agrahara means colony of Brahmins) has existed even before the advent of Sri Ramanuja, inhabited predominantly by Srivaishnavas. The Aprameya Swami temple here is also built exactly in the same pattern of Melukote temple without any exceptions. Similar layout, tall Gopura, circumnutating passage (Pradakshina path), Goddess Lakshmi shrine, Shrines for Alwars and Acharyas are all there. Not much is known about the history of this shrine. Lord Aprameya in the main shrine has 4 arms -Abhaya Hasta (right hand showing protection to devotees), Shankha (conch), Chakra (discuss) and Gada (mace). Worshipping the god is done according to the Pancharatra tradition. The temple also has the famous Ambegalu Krishna idol. Utsava Murthy is also on the same lines with both Sridevi and Bhoodevi on his sides. It appears, the famous sage Yagnya Valkya stayed here and wrote some famous treatises. The famous Sangita Pitamaha Sri Purandara Dasa was an ardent devotee of the Lord here and wrote the famous song 'Jagadoddarana' at this temple. The first priority for worship at this temple has traditionally been given to the Malur Anandampillai family.
MELUKOTE AND THONDANUR -BRIEF HISTORY
Melukote is considered sacred, equal to the three major divya desams, such as Srirangam, Tirupati and Kanchipuram in Sri Ramanuja's famous shlokam "Sri Ranga mangala maniyam" etc. Melukote history begins when our revered guru, Sri Ramanujacharya had to leave Srirangam in AD 1098, because of the problems created there by the then Chola ruler and came to Thondanur. The Hoysala king Vishnuvardana who was ruling the region became his desciple, when Sri Ramanuja cured his daughter from a disease. Sri Ramanuja obtained fertile tracts of land from the king in the neighbourhood, especially the ashta gramas. At Thondanur, one night Sri Ramanuja got a call in his dream from Selvapillai to come to a place in the nearby forest. On a Trayodasi Sunday, Ramanuja discovered idol of Sri Tirunarayana hidden in an anthill in the forest and immediately named the place Tirunarayana
Puram and stayed here for about 14 years making it a prominent centre of the Srivaishnavas.
While at Thondanur, he defeated 1000 Jain monks, who had complained to the king Vishnuvardana about his philosophy, in a debate and who then became his disciples. He taught Tapta Chakrankana mantra, to the king and with his help, on Magha Panchami day (February) of 1098 AD, a Friday during bright half phase of moon and Star Revati, started renovation of Melukote and the Ashta Grammas after reciting 'Oru Nayka Stotram'. The king contributed 50,000 Varaha' (currency) and sent Venktadri Nayak to assist Ramanuja in this regard. Sri Ramanuja on Friday, Trayodasi fixed the Muhurtham for constructing the temple during the bright moons half in the month of Phalguna (March). It took 4 years (AD 1099 to 1103), 4 months and 2 days to construct the temple, which was completed in the Swabhanu Samavtsara Vaishakha (May), new moon phase Panchami day. After constructing the temple and renovating the town in the above manner, Venkatdri Nayaka sent the message to King Vishnuvardana. Vishnuvardana then donated some more villages and lands for conducting daily Pooja, Aradhana (worship) etc to Lord Narayana.
After renovating and constructing the town and temple and blessing all the elderly residents of Melukote, Sri Ramanuja spent 12 years at Melukote under the feet of Sri Tiru Narayana establishing and supervising the daily worshipping procedure of Sri Tirunarayana and Selvapillai. Before returning to Srirangam after 12 years, as desired by his devotees he installed an image of his own and appointed Kovil Kelvi Deshayi Tirunarayana Jeeyar as the chief executive for the management of the temple and handed over the Ramanuja seal ring to him. He also instructed the chief of the Yathiraja mutt where he lived, to be continued on the basis of the swami's deputy to succeed. Accordingly our own community people have been heading the mutt. It is understood Deshayi Tirunarayana Jeeyar family are there among us even to-day (1980) as Deshantri's.( Deshayi means tax collectors of Desha or country).
Melukote went through dark period due to political upheavals and changes. In the 14th century, Muslim invaders, wrecked Dwarasamudra, capital of Hoysala kings and Melukote also suffered. It was at Tonnur about 18 Km's south of Melukote, that the then Hoysala king first retired. Subsequently when Vijayanagar empire rose, Melukote was restored to it's glory in about 1460, by Thimmanna Danayaka, a chief of Nagamangala, who was an army commander of the Vijayanagar king Mallikarjuna or Immadi Prudhadeva Raya. The restoration must have been on a grand scale, as can be seen from the remains of the Gopal Raya gate on the South which is of immense proportion.Thanks to Timmanna danayaka, Melukote reached it's zenith under the patronage of famous Vijayanagar Kings.
With the rise of Mysore kingdom, the temple started enjoying rich endowments and special patronage. As early as 1614, the Mysore king Raja Wodeyar 1578 – 1617 who first acquired Srirangapattna and adopted the Srivaishnava faith, handed over to the temple and the Vaishnavites at Melukote, the estate granted to him by Vijaynagar king Venkatapati Raya. On one of the pillars of Navaranga of the main temple is a bas relief about one and a half feet high of Raja Wodeyar, standing with folded hands, with the name inscribed on the base. He was said to be a great devotee of the presiding deity and a constant visitor to the temple. A gold crown "Raja Mudi" with precious jewels was presented by him to the temple. Later Krishnaraja Wodeyar III also presented to the temple a crown set with precious jewels known after him as Krishnaraja-mudi. Of course Vairamudi or Vajramukuta, the crown of great value, is much older than these two, dating back to antiquities believed to have been brought from heavn by Garuda. All the three crowns are kept in the safe custody of the Government and brought to the temple on specific annual occasions only.The Vairamudi festival, atracts lakhs of people.
Ramanuja apart from his wealth of knowledge of our philosophy, also had engineering skills. When people in the region faced severe water shortage, he identified the present location of Thondanur lake as an ideal spot to store water with a small earthen bund. Since then, all through the centuries this reservoir has never fallen short of feeding water by natural gravity to the fertile fields over several hectares. Also the water is always crystal clear.
Thondanur located amidst lush green fields, swift flowing water streams and rocky mountains also boasts of three beautiful temples dedicated to Gopla Krishna, Nambi Narayan and Narasimha. There is a stone bench in Narsimha temple beklieved to be the seat where Sri Ramanuja sat and defeated in a debate, the 1000 Jain monks who had complained to the kings about his preachings
Next Sri Ramanuja installed Utsava Murthy. A leading person of Melukote (a leader in organizing Kainkarayams (major Pooja). Sri Anantapura Dasa, while digging for foundation to build his own house saw in a big vessel buried under the earth, idols of 2 Nachiyars (goddess Sridevi and Bhoodevi), several ornaments, golden coins, useful things etc and donated the same to Sri Ramanuja. Then Sri Ramanuja performed through the main priest (Bhattacharya) Alwar Sri Rangarajar all the rituals for installing Sri Tirunarayana according to Panacharatra Shastras, such as Proksahane (sprinkling sacred water), Tiruvaradhana, Kalyanotsavam etc. He did the Pooja (worship) of Sri Tirunarayana for next three days himself before handing over the same to Alwar Sri Rangarajar. Sri Ramanuja also established Yathiraja mutt.
Thus Sri Ramanuja converted and renovated Yadavagiri, which was a forest into a town with a nice temple, houses, tank etc. It appears from the following Sloka that the town had 530 houses to take care of all the administration-temple worship, temple administration, people's administration security, etc.
" Panchashata Trimshaja Janisthala Kramena
Sasya Sampanna Chatuh Seemasa samanvitam"
The temple is square in layout with a prakaram for pradkshina inside the temple and a Raja Vidi around the temple for utsavams and processions.There are beautifully carved pillars in front of Tayar Sannidhi. There is also a temple for Badari Narayana opposite to the main temple and a Badaritree.
The temple infrastructure includes the large pond Kalyani. The beauty of the steps leading to water and the various mantapas, the dancing hall of Vishnuvardan's wife Shantala, built all around are a feast to the eyes.
On top of the rocky hill is the impressive temple of Yoga Narasimha with a tunnel big enough for one to crawl, and pass beneath the feet of Lord Narsimha, it is called Bilva swarga.. Krishnaraja Wodeyar III presented a gold crown to this temple.
Melukote located on a hilly terrain in the midst of forests, has eight sacred ashta theerthams (ponds) located within 3 km's from the temple, among which Veda pushkaraini and Dhanushkodi are prominent. Pathways are available to visit these ponds and once a year Lord Selvapillai is taken round to all these theerthams.
There is a private library of his holiness the Yatirajaswami containing a large number of Sanskrit and Tamil works on the Vishishtadwaita philosophy. There are also few Kannada and Telugu works there.
This place is known as Anantha Kshetra and has more than 1,000 years of History. Here Lord Soumya Keshava resides and the place is known as Nagamangala and is in Mandya District. As soon as you step into Nagamangala a Lofty Garuda Gamba welcomes you and it is fifty-five feet high. It is said Bhagvan Ramanujacharya did the prathistai of this Garuda Gamba. One side you find our Garuthman and then you will find unusual Sevai of Seriya Thiruvadi , he is giving Darshan as Kowpina Dhari . Then you come across a majestic seven tier Raja Gopuram. Then you climb up a few steps and behold you are seeing Lord Keshava. How did he get the name Keshava? In KrishnaAvathra Lord does Samhara of a Rakshasa named Keshi, so he got the name Keshava Lakshana of Keshava Moorthy is He has Shanku in right upper hand and Chakra in left upper hand, He holds Padma in right lower hand and Gadha in left lower hand and Adhi Shesha in Nabhi. Bhoo and Neela Devi are also there. Keshava is standing majestically and he is six feet in height, excluding the Peetham. This temple is in Thrikutachala Style, the uniqueness of Hoysala Temples. It is said this temple was built in two stages the inner sanctorum etc was built by Hoysala and Vijayanagara kings built the Raja Gopuram etc. The main Sanctorum houses our Keshava and to his right the Santorum houses the image of Krishna, Rukmini and Satya Bhama As the Slokam goes " Rukmini Sathyabamabyam Sahitham Krishnam Ashraye" The sanctum to the left houses an image of Lakshmi-Narasimha and the specialty is the Swami is sitting on Five hooded Adhi Seshan . Hoysala Palegara Sri Jaga Deva Raya constructed this temple. This place is also known as Nagamandala Paniparaha Kshetra. Nagamandala means Adhi Shesha. Adhi Shesha is sitting in Mandala akara. In the whole world you will not find the Adhi Shesha Sitting in Mandala akara on top of Mantapa
SRIRANGAM –THE BHOOLOKA VAIKUNTHA
Srirangam, foremost among the 108 Divya Desams is one of the four most sacred places for Sri Vaishnavites, mentioned in Sri Ramanuja's famous shlokam "Sriranga Mangala maniyam—etc". An attempt is made here to highlight its rich history from inception in Kritayuga till to-day and the beauty of it's temple. The temple at Srirangam is a replica on earth of Vaikuntha -permanent abode of Lord Vishnu, both having 7 Prakaras. Hence it is referred as BhooVaikuntham. 11 out of 12 Alwars have sung in praise of Lord Ranganatha enshrined in the center of the huge temple. It was the head quarters of Sri Ramanuja for most of his lifetime and where he wrote most of his works and the epicentre from where Vaishnavism spread all over. It was from here during Ramanuja's time, that far reaching reforms were introduced both in the religious and secular management. Thus Srirangam has an eventful history. It is also referred as Antyaranga being the last of Ranganatha temples located in island formed by river Cauvery amidst sylvan settings, surrounded by picturesque mango and coconut groves and green rice fields.
TIRUPATHI/TIRUMALAI
Lord Venkateswara (Srinivasa) is the family deity of Mandayam Iyengars and is also worshipped universally. Tirupathi is a well-known and world famous pilgrimage center for Hindus. Many publications about Tirupathi and Tirumalai temples are available and hence it is not found necessary to elaborate it here.
KANCHIPURAM
For us Sri Vaishnavaites, Kanchipurm is as revered place in many respects as the other three mentioned in Ramanuja's famous shlokam" Sri Ranga mangala—— etc" . Within the town there are 15 Divya Desams including the marvelous Tirukacchi- Varadaraja's temple. Apart from that, it is also the place where Sri Ramanuja spent many years worshipping in that temple, before migrating to Srirangam. Sri Ramanuja's birthplace Sriperumbudur is just 35 km's away. It is also the birth place of Poigai Alwar and Maha Desikan and the place where many great Sri Vaishnavite saints such as Alavandar, Tirukkachhinambi, Azhvan, Manavalamamuni lived. It was once a home of thousands of temples of which nearly 182 exist to-day. It is held in high esteem by Shaivaites also.
PARTHASARATHY TEMPLE
The Parthasarathy Temple is located in Tiruvallikeni (Triplicane) Chennai. The temple is considered to be the oldest of its kind in the Chennai. The temple origins date back to the 8th century A.D., the reference of which is given in the Vaishnavite works of the Alwar saints. The Parthasarathy Temple bears impressions of the popular historic dynasties like Pallavas, Cholas and Vijayanagar. The Pallavas originally built Parthasarathy temple. The temple saw its renovation by later dynasties, including the Chola and the Vijaynagar kingdom. Parathasarathy temple is dedicated to Lord Krishna. The name Parthasarathy has been derived from two Sanskrit words Partha and Sarathy. The former word refers to Arjuna and the later means Charioteer. The temple architecture is a medley of temple building style. There are inscriptions of the Pallavas, Cholas and the Vijaynagar kingdom on the temple structure. The temple besides being dedicated to Parthasarathy is also revered for Venkatakrishnaswami and to Ranganathar. The temple, when it was built, housed five avataras of the deity Vishnu. The structure, as it stands today, houses the shrines of popular deities like Venkatakrishnan with Rukmani, Balaraman, Satyaki, Anirudha, Pradyumna, Rama, Lakshmana, Bharata, Sita, Shatrugna, Varadarajan and Hanuman. During festival days the place is given a new look and accompanied by various traditional rites. The floating mirror palanquin, which is brought out, to pay homage to Parthasarathy, is one such traditional practice. The tradition followed a good 135 years of practice and was temporarily stopped, following the deterioration suffered by the palanquin.