Smt. Malati Singlachar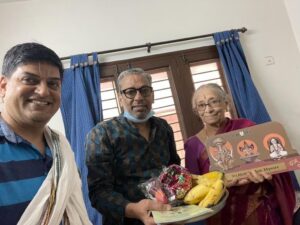 Smt. Malati Singlachar was felicitated in March 2022 by Sri M.S.Vijayaraghavan (Former advisor, PMO) for her dedicated services in music. She taught Vedanta Deshikar stotras online for children Pan India, as part of a program organised by Mysore Ahobala Mutt. Classes and competitions are conducted online every year to propagate the stotras. The Mutt appreciated the services of Smt. Malati, in this program, through the felicitation.
---
Best Editing – Dhobi Ghat, a documentary – K. S Shridhar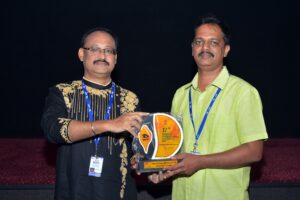 Dhobi Ghat, a documentary film directed by K. S. Shridhar, was awarded for Best Editing by the Films Division at MIFF 2022. Sri Sridhar was felicitated by Sumay Mukherjee, Sr. Branch Manager, Films Division. The screening of the movie at the event received an overwhelming response by the audience.
---
Contributions in Bharatanatyam – Smitha Raghunath
Smitha Raghunath, one of the noted Bharatanatyam dancers from our community, was recognised for her talent and contributions by Swar Sarita, a Hindi magazine.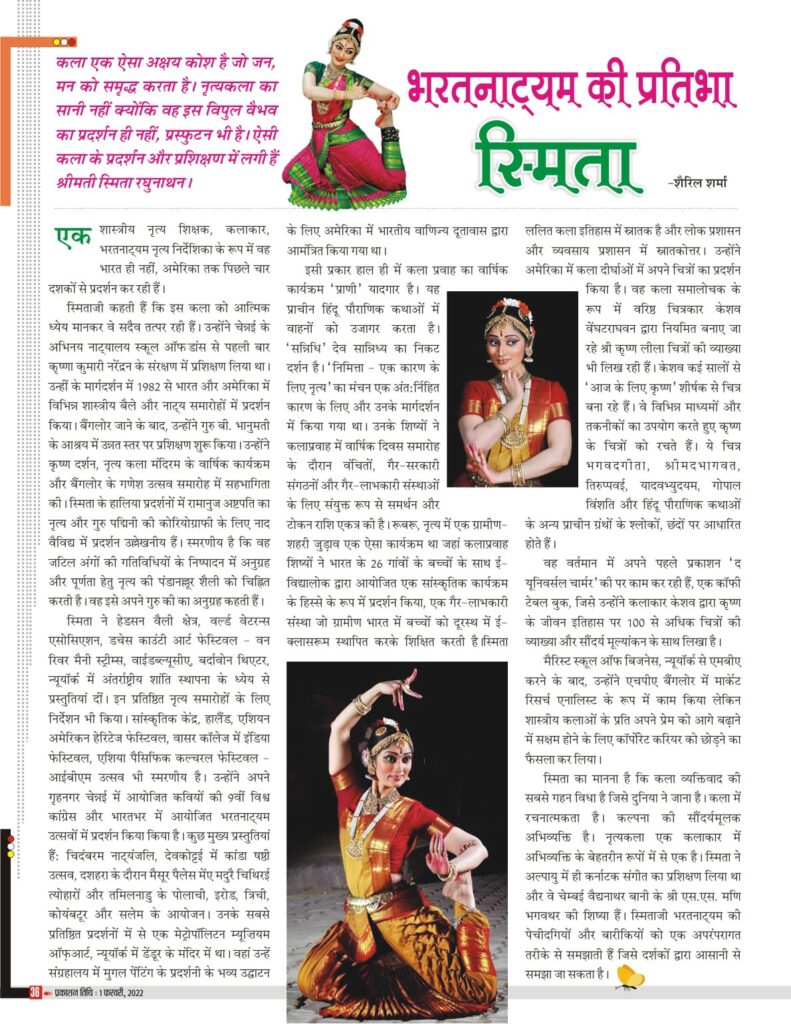 ---
Tribute to M B Thanga
– Natampally Narasimhan & Sheila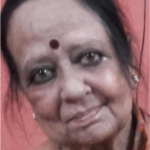 Very sad to hear the sad demise of M B Thanga. A few words can not explain her wonderful personality. She was a very active, ebbulient, forceful, highly social, oozing with dynamism, a very friendly attitude & what not. Her contribution to sabha has been immense – for half a century. Whether it is Aadi Vellikalamai or raffles or name any function, Thangas stamp was prominent. She had a daring aptitude. In fact i remember that she was the first mandayam lady in malleswaram to have ridden a ladys bicycle, decades ago. I cannot, personally , forget the support she rendered during my stint in sabha. One experience stands out of Thanga's aggressive salesman ship.
When ever I or my wife walked past her sitting near the entrance of Samskruti Bhavana to attend a sabha function, she would accost us to buy the raffle ticket costing 10 rs each. When I asked for 2 tickets giving 50 or 100 rs , she would not give back the change & instead non-challantly would give either 5 or 10 tickets . This was a great blend of sales & human warmth.
It is not only a personal loss of a friendly person but also a loss of a relative as she is my wifes cousin.
Heartfelt condolences to the bereaved family.