Guinness World Record – M.A.Ranganath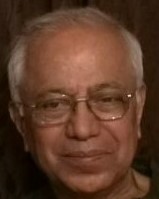 Sri M.A.Ranganath participated in the virtual Artificial Intelligence (AI) Symposium, organised by The Indian Youth Forum in collaboration with INTEL, on the journey of AI and its reach in the last 3 – 4 decades, and helped India to create a GUINNESS WORLD RECORD for most users to take an online AI lesson in 24 hours.
The session included a video presentation followed by a Question and Answers section after each module on the 13th /14th October, 2020. Sri M.A.Ranganath, who is an evergreen youth in mind, had earlier exposure on this topic and hence was an eager participant in the symposium which also covered aspects likely to change the tech scenario in the next decade. This program was a part of skill development program for the youth by the Government of India.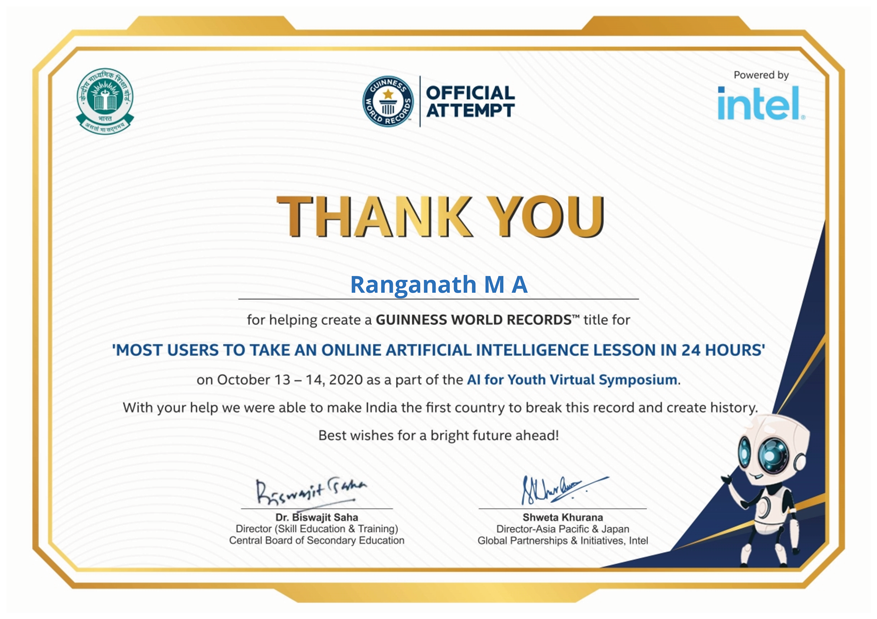 ---
Young Doctor(ate) – Navaneeth Makaram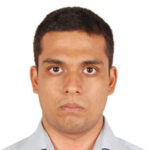 Congratulations to Chi. Navaneethakrishna Makaram who completed successfully doctorate from Indian Institute Of Technology Madras (IITM) , Chennai, under the guidance of Head of the Department and Prof. N. Ramakrishnan, Applied Mechanics
---
Services during Pandemic – MKT Narayan
Sri. MKT Narayan, Head of the Disaster Management team, Bangalore South, was recognized and felicitated by the Rotary Club Bangalore City Centre, for his outstanding services during the COVID-19 pandemic.
He heads the Home Quarantine Management Squad of Bengaluru South zone, which constitutes a total of 44 BBMP wards. Among other responsibilities, this squad monitors people entering the zone from outside of Bengaluru. The persons tested Positive for Covid are ascertained to remain quarantined for the stipulated period of time, and Sri Narayan is authorise to take action on any breach, as per the NDMA (National Disaster Management Authority) Act on the person/persons.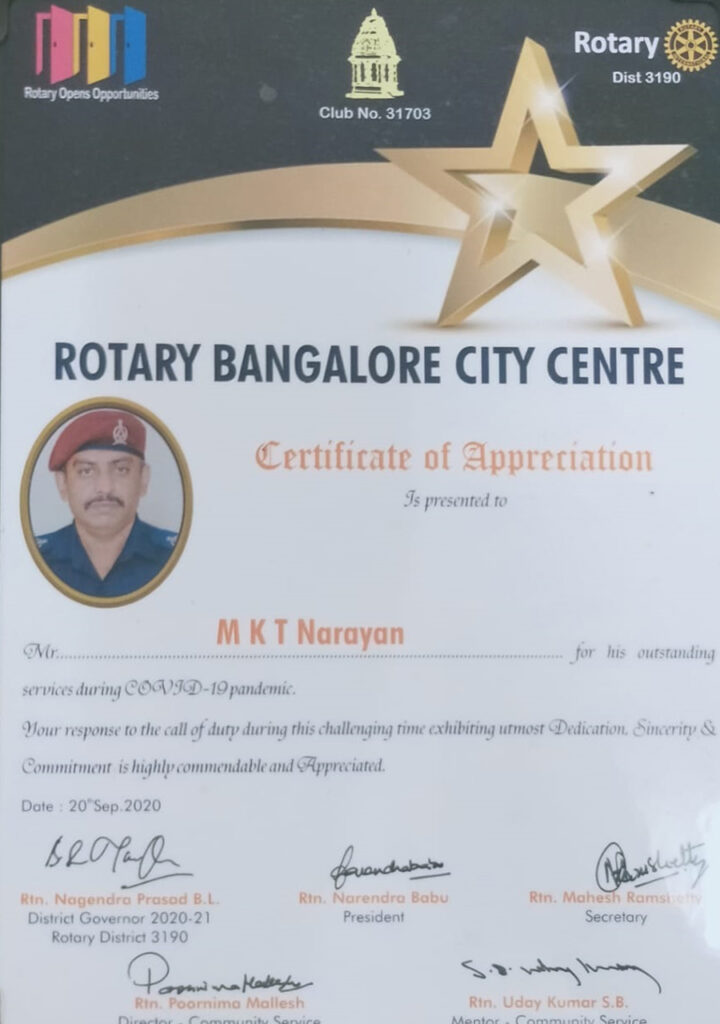 A sincere, hard worker, as well as a strong team leader and a motivational team member, he has inspired many of his colleagues and juniors.
---
Bhakthi Songs Compilation –Smt. Ranganayaki Rajan
Smt. Ranganayaki Rajan was an amazing musician with outreach in India, USA, Canada, Europe and Dubai. To preserve her legacy, the following compilation of her songs have been created.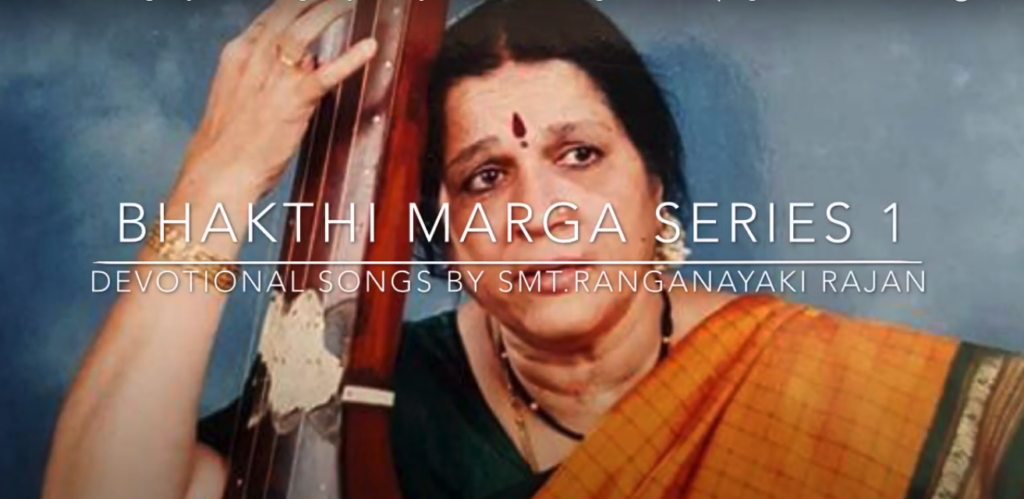 Bhakthi Marga – Smt. Ranganayaki Rajan's mission in life was to spread Bhakthi through music. Her rendition of songs such as Jagadodharana, Raghupathi Raghava, Vandemataram, Chikkavane, and others is available on https://www.youtube.com/watch?v=SYOM1h2B1UU
Bhakthiya Sampathu – Songs composed by her mother, Late Smt. Rajamma Sampath Iyengar, and sung by Smt. Ranganayaki Rajan is available at https://www.youtube.com/watch?v=A2b3cA0l4yo
---
Eco-friendly Agricultural Practices
'Nanjangud Rasabaale hannu' cultivation in Melkote – M. A. Narsimhan
Agricultural Profession is by and large fraught with uncertainty and a range of issues such as dependence on weather, water and power availability etc. Such issues are mostly overcome by planned practices developed over the years. However, a very striking issue is the attack by various pests, viruses etc. which lead to the very destruction of well cultivated crops.
One such issue is an attack of "Panama Wilt" on 'Nanajangud Rasabalehannu' (a well- known variety of banana), mainly grown in Nanjangud and Chamarajnagar Taluks, near Mysore.
What is Panama Wilt disease?
The Panama Wilt disease, a fungal infection caused by the Fuserium Wilt pathogen, has been the bane of 'Rasabale'(Banana)farmers. The symptoms of the disease aggravate and start showing up just before the flowering stage. The leaves turn yellow and wither, the base of the stem splits and the roots rot, destroying the whole plant.
Panama disease (or Fusarium wilt) is a plant disease that infects banana plants (Musa spp.). It is a wilting disease caused by the fungus Fusarium oxysporum f. sp. cubense (Foc). The pathogen is resistant to fungicides and its control is limited to phytosanitary measures.[1]
(From Wikipedia, the free encyclopedia)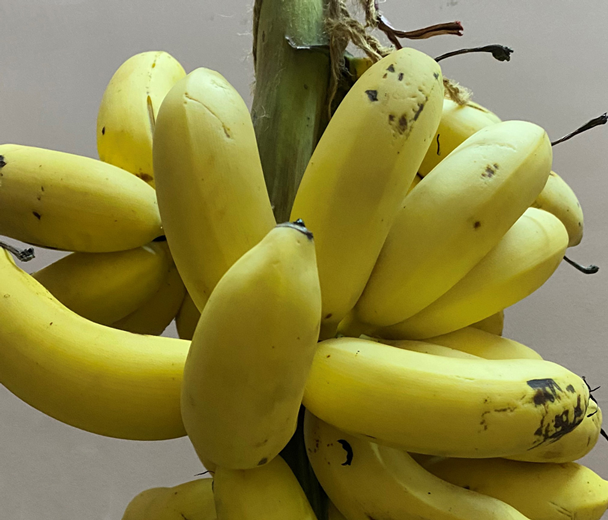 'Nanjangudu Rasabalehannu'
Many of us, particularly people from outside of Karnataka state, would not have heard of 'Nanjangudu Rasabalehannu'. It is a particular choice variety of banana grown especially in and around Nanjanagudu, near Mysore. Nanjangud rasabale is one of the iconic fruits of the old Mysore region and is considered to be Mysore's pride. It is distinct in taste and aroma unmatched to any other variety. It is reputedly a luscious fruit loaded with nutrients and is also said to be the best banana variety in the world. The banana is said to have been patronised by
Wadiyars, the erstwhile ruling family of Mysore and many other prominent public personalities.Now this famous banana special is on the verge of the extinction due to the Panama Wilt disease. Though the fruit is in demand, due to adverse impact of the Panama Wilt disease, farmers are averse to growing it.
Owing to the specific qualities that are due to the place of origin (taste, smell and pulp quality), the Nanjangud Rasabale was given the Geographical Indication (GI) protection in 2005 under the Geographical Indication of Goods (Registration and Protection) Act, 1999. It was hoped that inclusion in the GI registry would give renewed impetus to its cultivation. The slump began when water from the Kabini dam was used for irrigation instead of the rainwater pond in the village. Since then, Rasabale farmers have shifted to growing other varieties of banana like the 'Yelakki Bale' and 'Pach Bale'. The pathogen stays in the soil for 30 years once it gets affected. The 'suckers' or the lateral shoots of the parent plant used as planting material can further propagate the disease.
Nanajanagud Rasabale Cultivation in Melkote
Sri M A Lakshmithathachar, (a renowned Sanskrit scholar and President of India Gold medallist), has now taken a sustained interest in cultivation of Nanjangud Rasabale successfully in Melkote (Mandya district). Sri Thathachar planted the saplings of Nanjangud Rasabale, obtained from Dept.of Horticulture, Mysore in his farm at Melkote. As the saplings were showing healthy progress in six months , suddenly Panama Wilt struck them and the leafs of the
plants started turning yellowish following withering of the same and the plants started collapsing one by one. Sri Thathachar immediately consulted many experts of the Horticulture dept., agriculturists in Mandya, Mysore, Tamil Nadu etc. While most of them advised the use some pesticide formulation on trial and error basis, others showed helplessness saying it is inevitable.
Sri Thathachar, with his close familiarity and knowledge of many ancient manuscripts and texts on horticulture, agriculture etc., set out to adopt some indigenous solutions by preparation of a unique "native concoction ".He injected the same into the stem of the withering banana plants and lo, there was a significant improvement in the plants, as it arrested the decay by the disease. Not giving up, Swamiji , guided by his expertise in ancient knowledge of botanical practices (using no pesticide) , employed the combination of wild plants / extracts , cattle wastes and
home ingredients etc, to treat the Panama Wilt disease effectively. Sri Thathachar, encouraged by the developments, increased the frequency and dosage one by one and was able to save the plants from destruction and relentlessly nursed the plants ( nearly 70 to 80 no's) back to full health , finally realising a rich harvest of the fruits. Some photos are attached herewith from his farm produce.
Eco-friendly Agriculture:
It is also important to note that no pesticide has been used at any stage, thus amply proving that traditional methods, can still solve such issues and even result in a robust and healthy agricultural produce! The "native concoction " for the formulation was based on Ayurvedic principles , native folklore knowledge , besides practices being followed by traditional farming community , but long forgotten and buried under present day impact of western influence! As
is known, every one commends pesticides, but what about pesticide residues, which are highly carcinogenic in nature. Hence there is a need to turn back on this abhorring practice and listen to the wisdom of nature and ecological sanity.
This is what prompted , Sri. Lakshmithathacharya Swami , set out on this awesome journey, which has resulted in remarkable breakthrough and success . Here lies an underlying but obvious wisdom, for those in the farm sector, to accept and adopt eco-friendly agricultural practices, which ensures wisdom and twin benefits of Environmental / ecological sustainability and public health.
---
Mind Behind The Final Videos – Raghunand SR
Dhriti S
Q: Do you like what you are doing for the Mandayam Sabha?
A: Yes, I do love doing functions, organizing for the Sabha and majorly it is just that I like doing things related to light, sound and background and things like that. These are some of the main things that I like in what I do.

Q: Do you have any ideas to make your work easier for you and for others to make good videos?
A: I don't know currently because currently the Sabha is run by people who are just getting to know how technology [actually] works, so it will be really difficult if people are pushed towards technological change. But I am hoping that some day we will have a really good connection between things that are happening on stage and backstage.

Q: What are your tips for beginners to make good videos?      
A:  I think the main tip is just like what you are doing and don't do it just because someone else wants you to or is telling you to do it. If you like what you do then just do it. If you start developing interest in a topic then you know you are interested and how that specific thing works and you think "Oh! It works like that". And just in a button things can happen so quickly, if you are really intrigued in those kind of things then you will really like what I do

Q: Share your experience in video editing. The good, the bad, the funny and the ugly
A:  So video editing I know that mainly the video editing started in COVID times because nobody could attend the functions in auditoriums, so we would have to request people to shoot videos and send it to us, and I would compile them. Also since I am the first person looking at those videos, it feels like I am the first audience and then after me it circulates and goes to others. I am proud of the fact of "I control the full thing" or that "everything is on my fingertips". So that is where you feel the pride in and I don't think there is much ugliness to complain about, it is just videos or things that entertain all of us.      
                       
Q: When and why did you get interested in this field?            
A:  I was into playing games when I was a kid which led to my interest in tech. And as I grew up I got more into the latest inventions with the help of my bay area relatives
---