Focus During The Pandemic
– Arjun Mandyam Dhati
Just a few days into the second year of Pre-University, the Government announced a lockdown all over the country. Schools and colleges were closed. 
Our college started with recorded videos of all the core subjects. Then, they kicked off live classes online through video call. The important thing was maintaining a schedule and treating it like regular classes.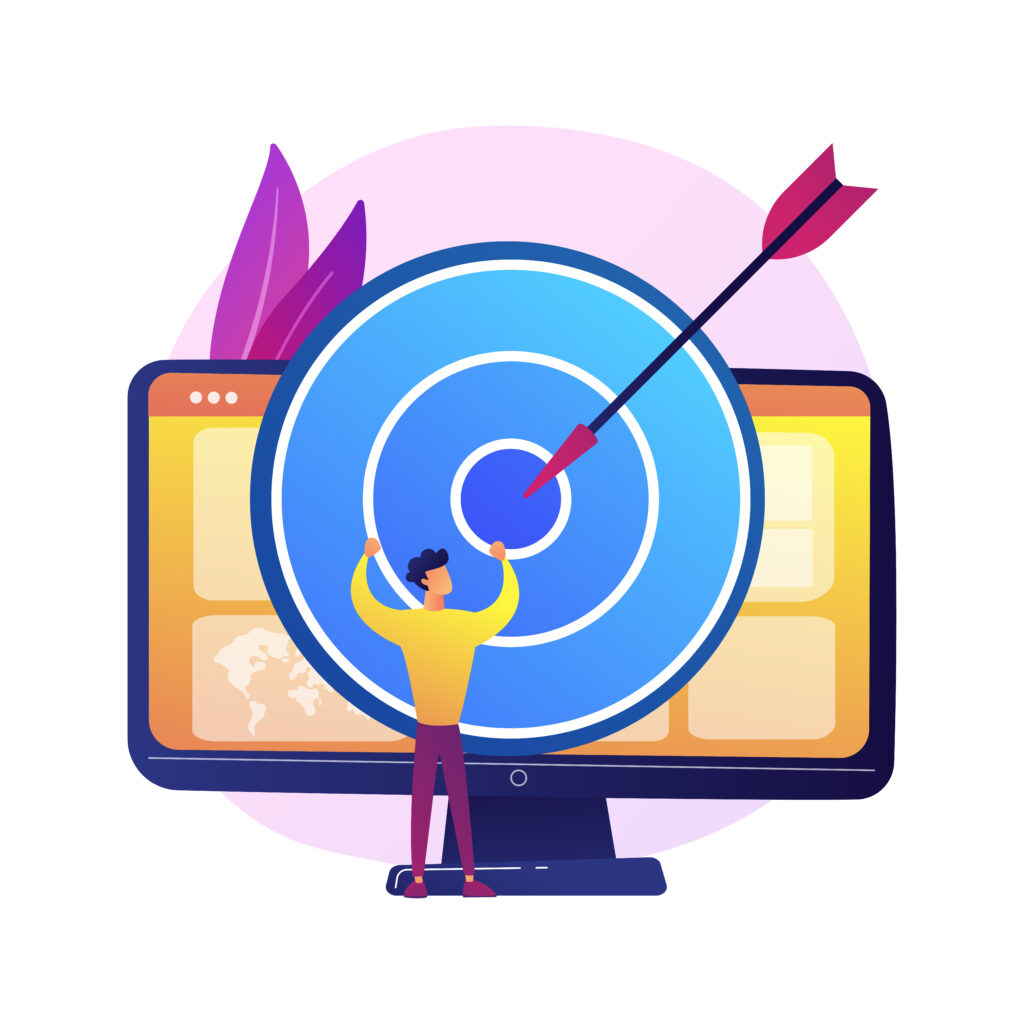 So, I started following a daily schedule. I used to wake up early in the morning and get ready for the online classes just like how I get ready for college. I made sure that I made notes for all the subjects. I followed a strict routine and even started exercising in the evenings in order to maintain physical fitness. I received complete support from all my lecturers since they had arranged for doubt-clarifying sessions as well. Apart from that, I also connected with my classmates on video calls to do some combined study and solve problems. I maintained contact with all my friends through social media. 
I never missed out on entertainment because my family made it a point to watch one movie every weekend together at home. My family supported me in every single way, be it buying the required textbooks or making my favourite snacks!
Though the experience was new to all, and the rigor was not equivalent to regular classes, I ensured that by having a disciplined lifestyle and concerted effort, I maintained focus through the pandemic.
---
My Online Learning Experience
– Aditi Narasimhan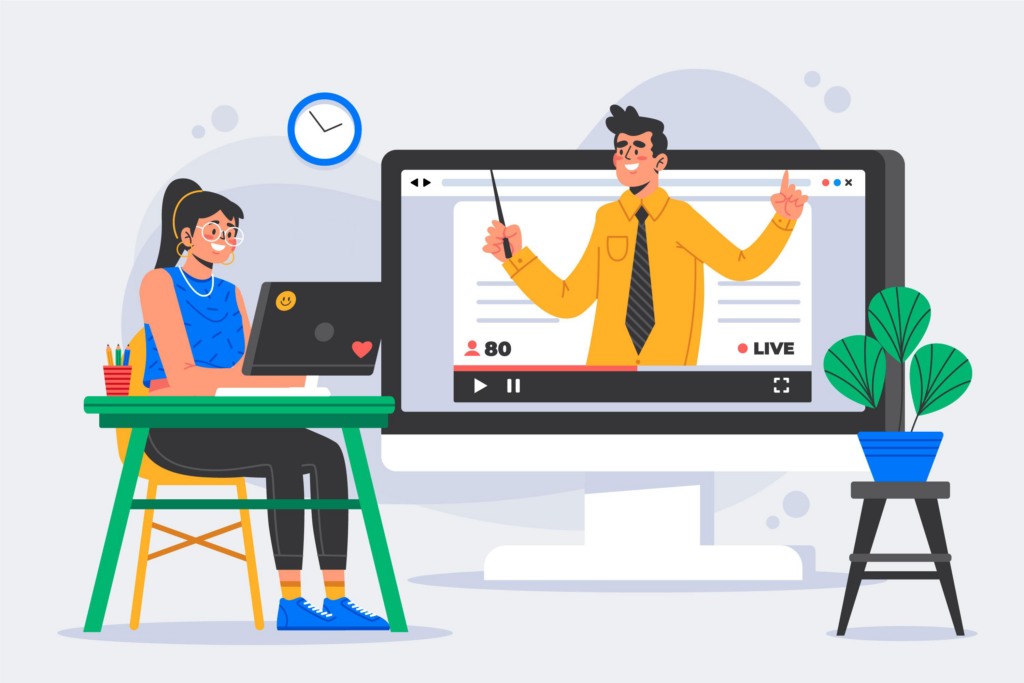 The COVID-19 pandemic, which broke out in the early months of 2020, caused the entire world to come to a standstill. Schools, colleges and workplaces across countries were shut down, and most things shifted online, including learning. Our 2 nd PU classes had just begun a few weeks before the lockdown was announced. Our college decided to send us our lessons in the form of recorded videos as they were more convenient than live classes. They also set up a Learning Management System to provide study materials and help with clarifying doubts of the students. Additionally, we were given tests and weekly assignments to assess our knowledge of concepts. 
Learning from home had its own advantages and disadvantages. It was easier to re-watch lectures that dealt with complex topics; on the other hand, there were more distractions available online than in a classroom. The college atmosphere and competitive spirit were missed by us students. I ensured that I kept in touch with my friends regularly. It was also helpful to maintain some hobbies that were relaxing like journaling, drawing and practising music. 
This past year made me realise the importance of offline classes and interaction with teachers and peers.
---
Learning through the Changes
– Vaishnavi Kumar Paramekanthi, Pune
"The capacity to learn is a gift, the ability to learn is a skill, the willingness to learn is a choice." – Brian Herbert
As a student of grade 12, I can certainly say that this year our willingness to learn, to educate ourselves has been immensely tested. Since the lockdown was announced last year, it has been a rollercoaster of emotions. In the beginning, we thought that this pandemic would last only a few months and so, we didn't bother much. But as it got extended, it gradually dawned upon us that this 'phase' would not end soon. We had to struggle right from adjusting ourselves to getting used to staying at home for a long time. There were a lot of changes all at once, and it was scary. The fear of uncertainty crept slowly and anxiety was at its peak. 
Since Pune was a hotspot for nCoV, we had stricter curbs that lasted longer. In grade 11, I was so used to meeting friends, going to college, all the extracurricular activities, and of course, all the junk food that we ate after classes. Suddenly all of this stopped and it was difficult to stay at home, or even sit in one place for so long. We also had to get used to looking at our laptop screens for hours together. Initially, I used to get frequent headaches due to this. We had classes for eight hours a day and it was tedious to follow such a hectic schedule. Also, since all our exams were online, a lot of students would copy. As a result, there was no seriousness among us as it was easy to question the legitimacy of the results. In the traditional classroom, we often have a sense of competition since we could see other students working just as hard and giving answers, but in online classes, we were clueless about what the other students were actually up to. I also got so used to using my laptop to study that I would yawn every time I opened books. That was even my mantra to sleep.
But despite these drawbacks, I must say that this has also been an exhilarating experience. After a few days, when we got used to the whole stay-at-home situation, we started video calling friends. We played games like Dumb Charades, Skribbl, and Among Us online. Due to this pandemic, I also came in contact with my friends from second grade. We were all in the same class for five years and practically grew up together. But after that, we lost touch. We interacted via video calls and reminisced about the old times. 
There were a few hilarious incidents too. Often, the students would simp
ly log in, mute themselves and turn off their videos, but they wouldn't attend the lecture. At times, someone would forget that their mike was unmuted and they would carry on with their activities. During one such class, we heard a classmate sing a whole song before he realized he was unmuted. We also heard comments like "mom, the food is nice", or even students saying 'what a boring lecture' and instantly regretting it. But the best part was that the teachers were quite understanding. Every time they heard such a comment, they would give us a break, make us play a game, or just crack a joke to lighten our moods.
I too am guilty of this.  Once, I didn't want to attend the lecture since it was a doubt clearing session and so I logged in and simply placed my phone aside. At that time my mom and I were watching TV and I happened to comment "Kya sahi kapde hai yaar, mujhe bhi chahiye", which translates to 'those clothes are so good, I want that.' And alas! After a few seconds, I got a call from a friend saying my mike was not muted. Panicked, I immediately left the lecture. It was so embarrassing and funny at the same time. When I checked the messages on our friend group, there was a full-fledged debate going on about what I was watching, and it was so entertaining. Even the teacher laughed and joked about it. There have been many such humorous instances, and I feel all the students would relate to this.
This lockdown has also been a boon in the way that we had more time for self-studies. I also had time for other activities. I wanted to learn a musical instrument and so I took up guitar. Also, I started learning a new language – French.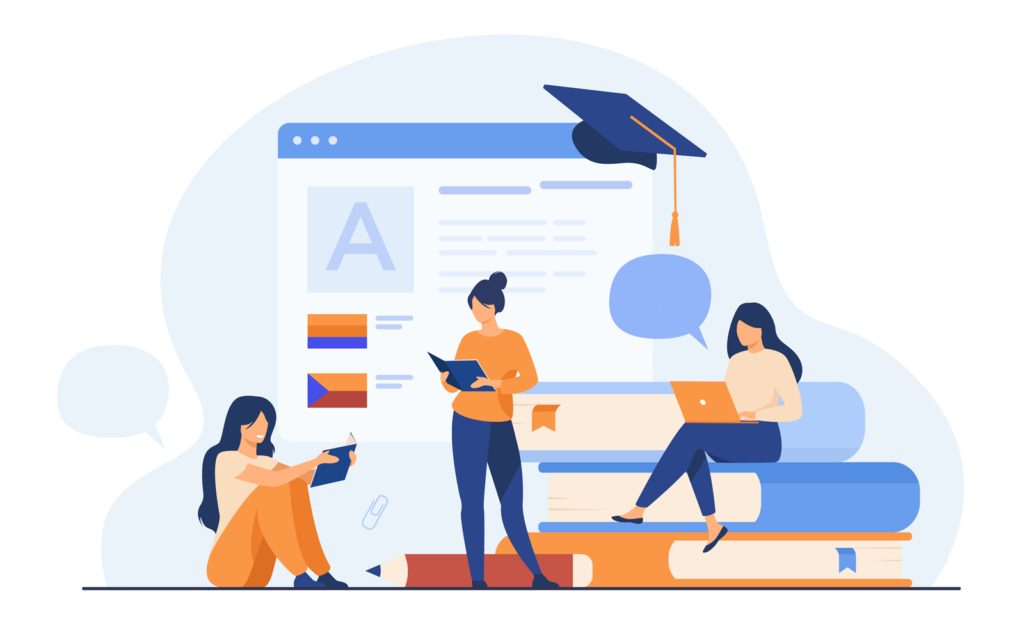 This pandemic taught me a lot of things. The first was to not be afraid of change but to embrace it. I realized that no matter how difficult things may seem, it's always fine in the end. We just have to go through it, one day at a time. One major thing that I realized was the efforts that our teachers take. Since my mother is also a teacher, this was the first time I saw her taking classes. Right from making presentations, to finding innovative ideas to retain the interest of students, our teachers took so many efforts, and watching my mom work so hard made me realize how we take teachers for granted. After all, they are also humans and we need to respect them and appreciate their endeavour. In fact, during Teachers' day 2020, we were asked to perform something for our teachers online. We students then wrote a poem and recorded it. This too was a very unique and heartwarming experience. When it was played on teachers' day, all our teachers were so emotional and behind the scenes made them laugh till their stomachs ached. It felt so good to do something for them in return.  
I even had to help my mom adjust and that's when I realized they are good at the use of technology. We easily say that it's difficult to teach them or explain it to them, but they too are quick learners. I can proudly say that today my mother is better than me at using technology and various applications. Yes, I got irritated in the beginning when she asked me to help her with little matters or when she panicked because of minute issues but isn't that what we children do too? Our parents never got annoyed with us just because we were asking a lot of questions. That's when I understood how patient they were and how blessed we are to have such amazing parents.
There were no extracurricular activities, and I have always been a multi-tasker. I cannot concentrate on my studies alone. I always have to have some competition or event side by side. This pandemic greatly tested my ability. I was constantly finding competitions online and participating in them. I attended elocutions, declamations, debates, and story writing contests. In most of these, we had to record our audition and send it to them. I have always been confident at public speaking but only when I had a live audience as I could see their reactions and act accordingly. But this whole recording process was very new to me and it pushed me out of my comfort zone. It was an eccentric experience. My mom would record my audition and often we would start laughing in the middle because it was funny staring at each other. I have lost count of how many retakes I had to do for every audition.
Then the lockdown was lifted phase by phase and we gradually adjusted to the 'new normal.' We went to college for our practicals and met friends, did group projects and it felt like we were doing it all for the first time. We were elated, just like a toddler who had taken his first step.
Recently, there was a lot of debate on our board exams and entrances too. Our entrance exams were postponed due to the second wave and it was just announced that our boards have been cancelled. I never thought I could be happy and disappointed simultaneously but that is precisely what I felt when the news was declared.
Overall, it has been a very different, thought-provoking experience that forced us to shatter self-imposed glass ceilings, tested our patience and resilience, and improved us as human beings. 
I'd like to conclude by quoting Walt Whitman, "Keep your face towards the sunshine and the shadows will fall behind you."
---
Giving and Sharing during Tough Times 
The joy of giving and sharing is being experienced by all of us despite all the gloom around Covid. And a person who is actively doing and organising people to do it is, Sunayana Chatrapathy, daughter of Gayathri and Ramesh M.C, who has been working in the social sector for the last 7 years.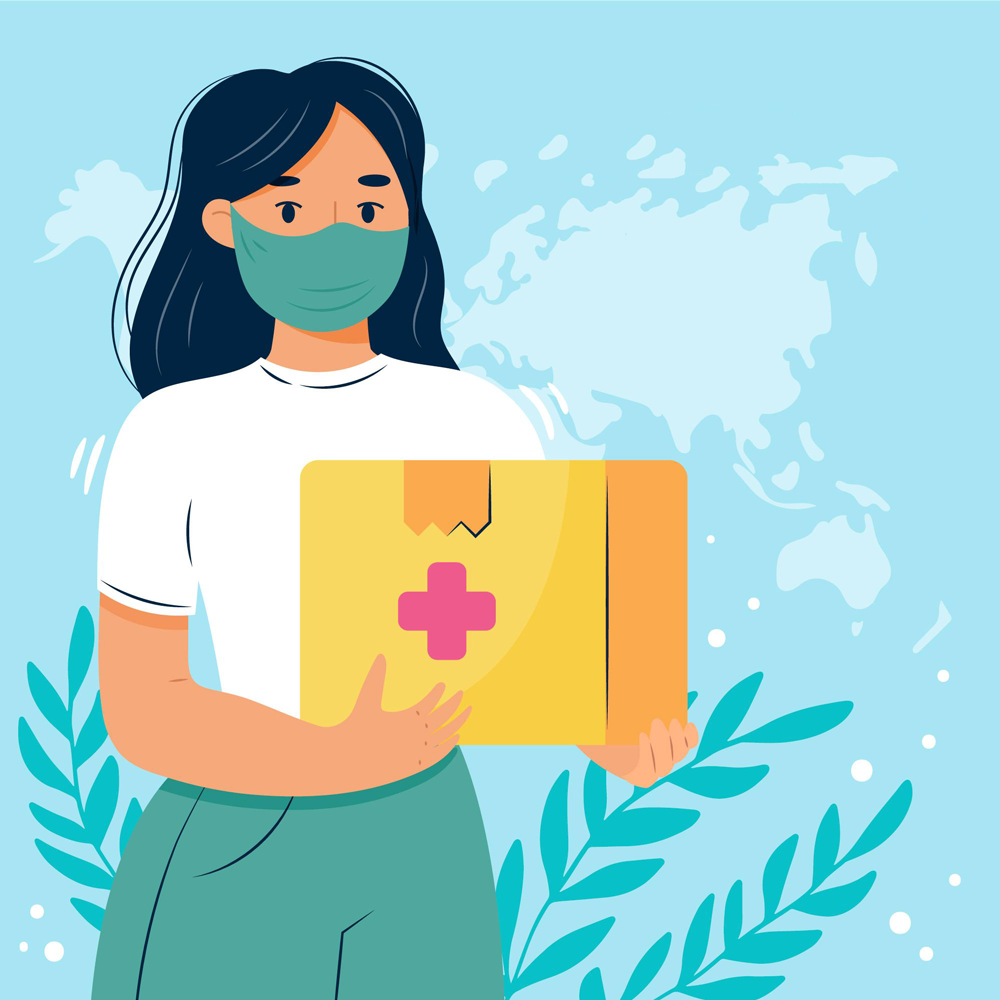 Presently she heads Makkala Jagriti, an NGO that works in the education space – enhancing the quality of learning in government schools, anganwadis and urban poor communities. As part of Covid relief efforts, Makkala Jagriti has designed a 'Learning under Lockdown' program for children of all age groups. This program adopts a multi-modal approach of offline and online means and is ensuring that 10000+ children continue to learn while their government schools/anganwadis remain closed. They have also provided dry ration kits to 5000+ families in the first wave and  8000+ in the second wave, and are continuously doing awareness campaigns on covid-precautions, vaccination, etc with 10000+ families.  The NGO is funded by contributions through https://fundraisers.giveindia.org/projects/uninterrupted-learning-during-the-pandemic.
As part of citizen's efforts in Malleswaram, Sunayana also started an initiative to support frontline Healthcare workers in and around Malleswaram – in KC General Hospital and 5 Primary Health Centres. This group raised funds to provide daily refreshments to 625 health workers who have been putting in long shifts in Covid wards. The initiative has been ongoing since mid April and still continues. The group has truly shown the power of community – how the community can come together in a crisis. The group also has 15+ volunteers to ensure a smooth Vaccination process at KC general. Another volunteer started a pick up and drop for elders in the area to get vaccinated. Most recently they thanked all the health workers through beautiful handmade thank you notes and cards.  
Sunayana says, "It is heartwarming to see how everybody wants to do something for the other selflessly – especially in these challenging times".
---
No Age Limit For Learning – A Lesson Taught By Covid19
– By Varadarajan, President Vokkarane Seva Trust 
Ringing Bell / Clapping – Lighting Lamp
Covid19 the pandemic Lockdown opened with a sort of paid leave in the beginning for a few weeks between ringing bells / Clapping and lighting lamps that's from 22nd March 2020 to 5th April 2020 when it was just eat, relax & sleep. 
After Lighting Lamp – The learning process 
This is the time the seriousness of the situation was felt more, when the lighted lamp started burning my pocket plus staying at home was more difficult. This time 
Entered kitchen & tried the olden day recipes that my Mom & sisters used to prepare especially the Lehyas. Learnt the art of preparing Ginger Lehya, Jeera Lehya and few other dishes. 

Tried to understand the difficulties of under privileged citizens and tried to provide ration kits in smaller ways. 

Learnt conducting Webinars on Zoom Platforms, issuing E – Certificates on Google platform. 

Conducted Webinars on

Modiji's Mantra

–

Be Vocal for Local, 

Attended Webinar on Healthy

Lifestyle – Healthy Life

by Dr. Anitha Mandyam 

Attended

Webinar on building

Healthy Habits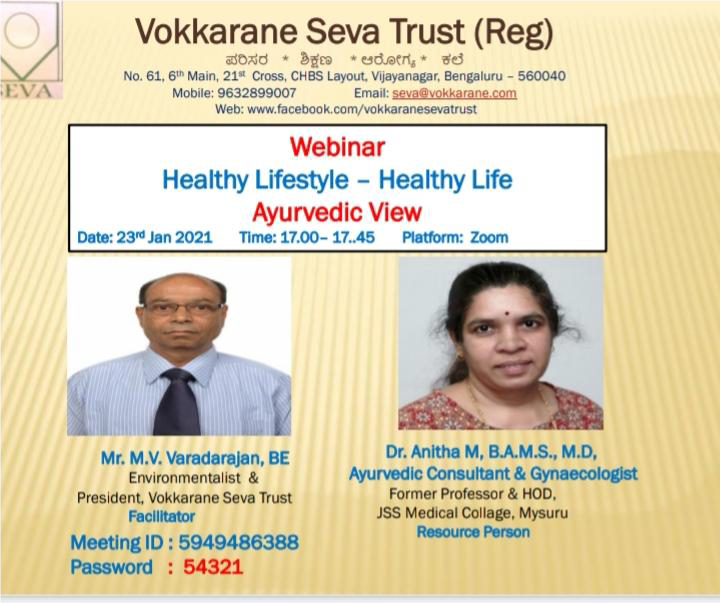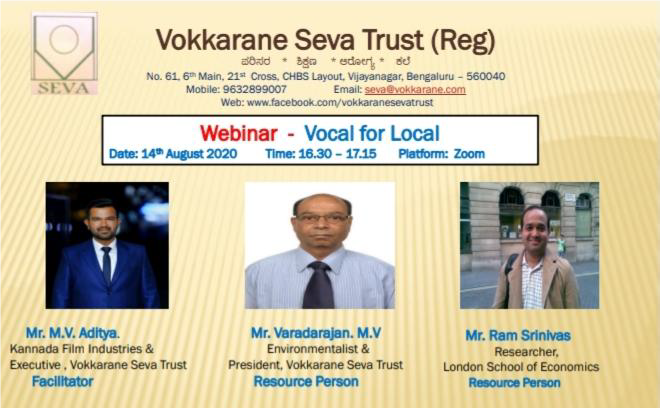 I personally feel it was gain in terms of Learning and pain in terms of money flow. 
I also gained in terms of spending quality time with family. Covid 19 taught us the lesson to convert every threat to an opportunity.
---
Role Of Hams In Covid – 19 First Wave  
– Sri T.S. Narasimhachar, VU3YIE.
Readers may be aware of Amateur Radio Operators world wide (called HAMs), with a slogan "ONE WORLD, ONE LANGUAGE". HAMs are licensed with unique ID called Callsign by the concerned Governments and a separate frequency band is allocated to HAMs.
In India, the Ministry of Communications issues licence to individuals to set up radio transmitter and receiver and I, T.S.Narasimhachar (Tirupathi family) am a Ham with callsign VU3YIE.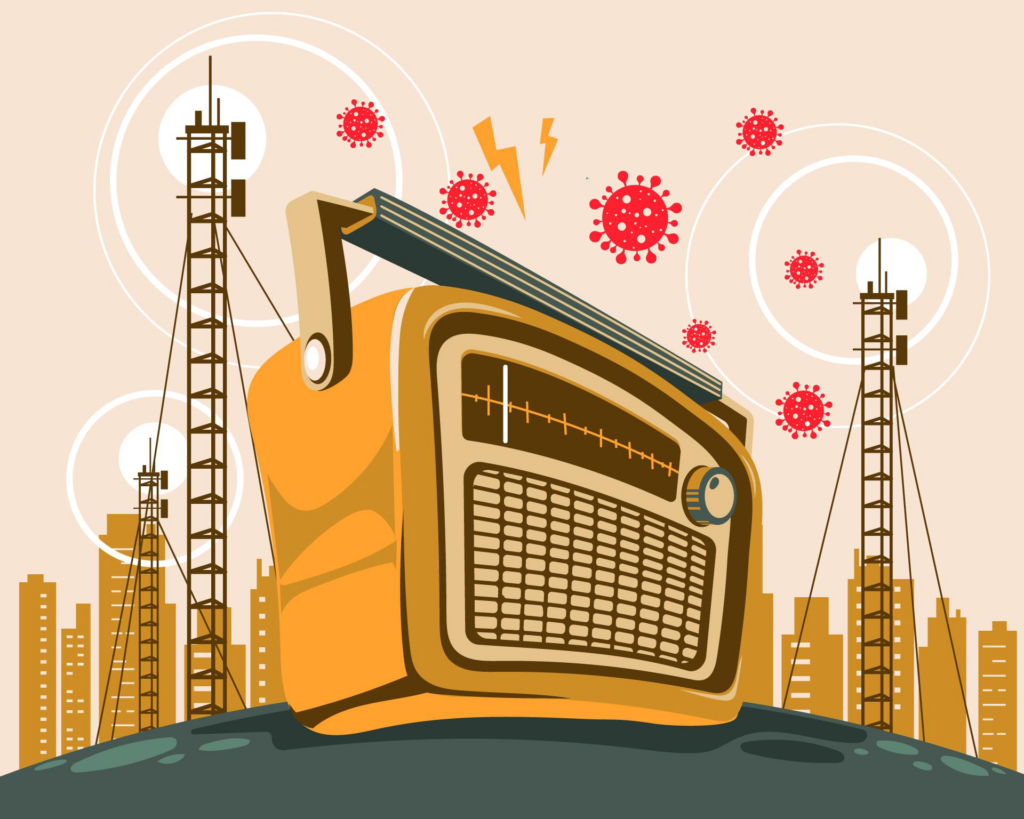 Though mainly pursued as a hobby, HAMs play an important role during natural calamities like Floods, Earth Quakes, Tsunami, etc. When all communications fail due to power outage, collapse of communication towers, etc, HAMs can establish communication just with a HAM Radio set, a Battery and an Antenna, anywhere. In addition, HAM services are also employed to monitor Motor Rallies, crowd monitor in Melas, etc.
During the first wave of Covid 19, added with National Lockdown, our Honorable CM set up a Covid War Room in June 20 in Bangalore with officials from different government departments and also included HAMs as Master Wireless Controllers to assist them. The Indian Institute of Hams created a Covid War Group with HAMs willing to extend service to this cause with 3 sub groups – a) Master Controllers, b) Field Staff and c) Base Stations. A separate frequency in the ham band was allocated for this network and disclosed to group members only.
Field Staff (group b) would go round the city with full Covid safety gear, in their designated Wards and communicate about (a) Covid cases for immediate medical help or requiring hospitalisation and (b) about migrant workers and abandoned persons, in providing food. On receiving communication, either the nearby field member with stock of food and medicines or  the Government Agency would reach the spot and give food, water, etc. and guide them to go to the nearby rescue camps.
As the Walkie Talkie of the Field Staff would not cover a long range, the nearby Base Station member (group c) staying at home (I was one in this group covering Yelahanka Ward), would relay the message to the War Room, which would be passed on to the concerned department. With this network, the affected persons were getting medical help within 20 mins, which saved many lives.
In appreciation of this service, the Government of Karnataka has issued Certificate of Appreciation to all the members of Covid War Group including me. 
---
Embracing Change to Build the  New
– Geetha Kumar Paramekanthi, Pune
     "The secret of change is to focus all of your energy,
not on fighting the old, but on building the new"
With the COVID19 turning into a global pandemic in 2020, schools have completely shifted from offline to online. It was fun to take on to the digital platforms and marvel at the wonders of the computer era. Thanks to development in science and technology we can continue classes online.
As a teacher, I not only faced challenges but experienced some funny incidents too. Each day has taught me a new lesson. During offline school, we taught only the children, but online schooling is not restricted to children. I realized that I am teaching the whole family, who sit next to the child. The family member sitting next to the child joins us for the morning prayer session, lectures, etc. This made me realize that learning has no age bar. 
At first, it was a challenge for all of us to accept the new circumstances. Among the challenges with e-learning were accessibility, affordability, flexibility, and more. For once, we teachers had become students. It was fun to learn the use of new technologies, apps and explore. We had to constantly keep the children engaged and on their toes. Gradually with time, things got streamlined. I must say it was all because of teamwork and support from higher authorities that we as teachers could plan, execute, control, and improve. 
I also faced some disturbing situations. In the physical classroom, I never punished any child for his mistake, I corrected the mistake so that he would not repeat it. But in online classes, the parents who accompany the child would not sit quietly and if the child committed any mistake, they would beat and scold him in the class, due to which I felt helpless and sad. During the tests and exams, the parents were solving the questions to score more marks. This just meant that the parents were spoiling their child's future. They gave more importance to marks and not the actual knowledge that the child had gained. Sometimes when the child was out of town, the parents used to attend the classes and when I called out the child's name, there was no response.
It was difficult to control the class and their parents. But gradually, the parents too started to understand and these days they motivate their children to learn more. After the lectures, they help the child search for additional information and also help them with activities and experiments. The children have been using technology effectively to improve their creativity. They can come up with out-of-the-box ideas. They have also started asking questions and finding their answers. I think this is the true essence of education – Learning, not for marks but to gain knowledge in a fun way. Today, all the parents are happy and now they are allowing their child to attend the class independently and ask queries on his own. I consider this to be my achievement.
In this pandemic situation, I feel that our children are the ones who have suffered the most. The pandemic has forced them to stay captive in their houses. They miss meeting friends and socializing. So, as teachers, we make sure that our children not only enjoy online school but even have fun and play games. We not only conduct regular academic classes but also fun activities like virtual picnic, New Year party, Krishna Janmashtami celebration, painting, dancing, and so on. And it is so refreshing to see those kids all dressed up and smiling. That motivated me to keep going, to give my best. This also taught me that our happiness does not depend on the world but only on ourselves. 
As they say, "Change is the only constant and we must learn to embrace it". Let us all embrace online class as the new normal and continue imparting knowledge.
---
ಕರೋನಾ ವಣಾಂಪ ವಣಾಂ
– Padmasini.M.A
ಒರು ವರ್ಷಮಾ ಎಲ್ಲರುಕ್ಕುಂ ಪೋರುಮಾಯಿ ಪೋಯಿಕ್ಕರ್ನ. ಎನಕೊತ್ತೀಕೇ ಅನ್ನ್, ಎಂಗಡೇ ಹಾತುವಾಳಕ್ ಮಟ್ಟುಮೇ ಅನ್ನು, ಎಂಗಡೇ ಹಾತುವಾಳಕ್ ಮಟ್ಟುಮೇ ಅನ್ನು, ಎಂಗಡೇ ಸಮುದಾಯತ್ತಕ್ಕುಮೇ ಅನ್ನ್, ನಮ್ಮಡೇ ರಾಜ್ಯತಕ್ಕೆ ಅನ್ನ್, ನಮ್ಮಡೆ ದೇಶತ್ತಕೇ ಅಲ್ಲಾದೆ, ಪೂರ್ತಿ ಪ್ರಪಂಚತ್ತಕ್ಕೇ "ಒರು ವರ್ಶಮಾಚಿ, ಇನ್ನೂ ಎತ್ತನೇ ನಾಳಪ್ಪಾ ಇಪ್ಪಡಿ" ಅನ್ನಿಪೋಯಿಕ್ಕರ್ನಾ.
ಯಾರೋ ಒತ್ತೊಂ ಮುಟ್ಟಾಳೊಂ ಪ್ರಯೋಗಾಲಯತ್‍ಲೆ, ಅಂದ್ "ಕರೋನಾ" ಕ್ರಿಮಿಯೆ ಕಂಡುಪುಡಿಚ್ಚಿಂದೋ ಪೋರೊಂ, ಇಂದ್ ಮಾದ್ರಿ ಒತ್ತಾಳಿನ್ನೊ ಒತ್ತಾಳಕ್ಕು ಪರಡರದೂ ಪೋರೊಂ, ಎಂಗೆ ಅಂದ್ ಅಂಟುರೋಗೋ ನಮ್ಮಳಕ್ಕು ವರದೋ ಅನ್ನುಟ್ಟು ಭಯತ್ತಿನ್ನೊ ಜೀವಿಕ್ಕಿರದೂ ಪೋರೊ, ಇಂದ lockdown ಅಂತೊ ಪೋರಮೇ ಪೋರೊಂ.
ಏಂಗಡೆ ಹಾತ್‍ಲೇ ಅಂತೊ ಒರು ವರುಷಮಾ ನರಿಯಾವೇ ಜಾಗ್ರತೆಯಾ ಕೋವಿಲ್, mall, crowded market, ನರಿಯ ಗುಂಪುಲೇ ಪೋಹಾದೇ, ಟುರ್ ಗೀರ್ ಆನ್ನುಟ್ಟು ಊರು ಚುತ್ತಾದೆ, hotelಲ್ಲಕ್ಕು ಪೋರಿದಿಕ್ಕಟ್ಟೊ, ಅಂಗತಿ ಸಾಪಾಡ್ ಹಾತುಕ್ಕು ಕೊಂಡ್ರಿಕ್ಕಾದೇ ಇರುಂದೋ. ಇದು ಪೋರಾದೇ ಅಂಟು, ಹಾತಲೇ, "ಕರೋನಾ" ವರಾದೇ ಇಕ್ಕರುತಕ್ಕ್ ಮಳಹು, ದಾಲ್ಚಿನ್ನಿ, ಲವಂಗೊ, ಇಂಜು ಪೋಟು ಟೀ ಪಣ್ಣಿ ಸಾಪಟ್ಟೊಂ.
ಇತ್ತನೆ ಎಲ್ಲಾ ಜಾಗ್ರತೆ ವಾಂಕೊಂಡಾಲೊ, ಒರು functionಕ್ಕು ಪೋಯಿಟ್ಟು ಹಾತಕ್ಕು ವಂದೋಂ – ಅತ್ತನೆಯೇ ! ಎನಕ್ಕ, ಎಂಡೆ ಯಜಮಾನರುಕ್ಕೂ corona+ve ವಂದೇ ಉಡುತು. ರೊಂಬವೇ ವಿಚಿತ್ರಮಾನ ರೋಗೋ ಪಾ ಇದು. ಯಾರಕ್ಕೂ ವರದು ವಾಂಡಾಪ್ಪ. ಇದು ಒರೊ ಸಾಮಾನ್ಯ ಜ್ವರೋ ಅನ್ನು. ಅತ್ತೋಡೆ ಗಂಟಲು ಹಿಂಸೆ, ಓದೋ ಒರು ಥರಾ ಸಂಕಟೊ, ಸುಸ್ತಂತೊ ಕೇಕವೇ ವಾಂಡಾಂ. ಮಡಪಳ್ಳಿಲೆ ಕಾಫಿ ಚೇಕ್ಕರತ್ತಕ್ಕೊಂ ಕುರ್ಚಿ ಪೋಟ್‍ಕೊಂಡು ಪಣ್ಣುಕೊಂಡಿಂದೆ. ನರಿಯಾ ಪೋದು (10 ನಿಮಿಷೋ) ಉಕ್ಕಾರತಕ್ಕೊ ಆರ್ದಿಲ್ಲೆ, ನಿನ್ನೊರತಕ್ಕು, ನಡಕರತಾಕ್ಕಂತೊ ಆರ್ದೇ ಇಲ್ಲೆ. ಸರಿ ತುಂಕೋಲಾ ಅನ್ನಾಕ, ತೂಕೊ ವಂದಾಕ ಸರಿ, ಇಲ್ಲಂಟಾಕ ಒರೇ ಸಂಕಟೊ ವಂದು ಮುದುರುಕೊಂಡೇ ಇಕ್ಕಲ್ಲಾಂ ಅನ್ನಿಕ್ಕಿರ್ನ. ವಾಯೆಲ್ಲಾ ಒಣಂದುಟ್ಟು ಗಂಟಲಿನ್ನೊ ಹೊಟ್ಟೆಮಟ್ಟುಮೇ ಒಣಂದು ಒಣಂದು ಪೋರನ. ಸಾಪಾದು ತಿಂಡಿ ಒನ್ನೊ ಸಾವಡರತಕ್ಕೇ ಆರ್ದಿಲ್ಲೆ. ರಂಡು ಇಡ್ಲಿ ಇಲ್ಲೆ ಒರು ದೋಶೆ ಅತ್ತನೆಯೇ ಕಷ್ಟೊ ಪಟ್ಟು ಸಾವಟಾಕ ಜಾಸ್ತಿ.
ಹಾತ್‍ಲೇ ರಂಡೇ ಪೇರು ಇರಂದುಟ್ಟು, ರಂಡು ಪೇರುಕ್ಕೊ "ಕರೋನಾ" ವಂದುಟ್ಟಾಕ ಅಂತೊ, ರೋಂಬವೇ ಕಷ್ಟೊ. ವೇರೆ ಯಾರೋ ಹಾತಕ್ಕು ವರಪ್ಪಡಿ ಇಲ್ಲೆ, ಕಾರ್ಯತ್ತವಳಂತೊ first waveಲೆಯೇ ನಿಲ್ಲಿಚ್ಚಾಚಿ. ಇಂದ್ ಒಡಂಬು ವಚ್ಚಿಕೊಂಡೇ ನಾಂಬಳೇ, ಪಾತ್ರೊ ವಳಕ್ಕಣೋ, ನಾಂಬಳೇ ಹಾಂ ಪೆರಕಿ ಮಳುಹಣೊ, ತುಣಿ ತೋಚ್ಚಿಕೋಣೊಂ, ಅತ್ತನೇ ಅಲ್ಲಾದೆ ತಳಹೇ ಕೂಡ ಪಣ್ಣಣೊ. ಅಬ್ಬಬ್ಬಬ್ಬಾ !
ಅದಾಚಾ ! ಎಂಡೆ ಯಜಮಾನರಕ್ಕು "ಕರೋನಾ +ve" ವಂದಾರದೊ, BBMPವಾ ರಾತ್ರಿ ಪತ್ತಾಂ ಮಣಿಲೇ phone ಪಣ್ಣಿ "ನಿಮಗೆ ಜ್ವರ ಇದೆಯಾ? comorbiditis ಇದೆಯಾ? ಹಾಗಾದರೆ ಈಗಲೇ ambulance ಕಳಿಸುತ್ತೇವೆ, hospitalಗೆ admit ಆಗಬೇಕು" ಅನ್ನುಟ್ಟ. ನಂಬಳಕ್ಕಾ ಒಡಂಬು ಸರಿಯಿಲ್ಲೆ. ಎತ್ತನೆ ಮಟ್ಟಕ್ಕು ಅನ್ನಾಕ ವೇರೆ ಯೋಚನೆ ವರವೇ ಇಲ್ಲೆ BBMPವಾ ಎಂಗಳಕ್ಕು ಯೋಚನೆ ಪಣ್ಣರತಕ್ಕೋ time ಕುಡುಕವಿಲ್ಲೆ. ಸರಿ ಅನ್ನೋ. ಅವ ರಾತ್ರಿ 12:30ಕ್ಕೆ ambulance ಅನಿಪಿಚ್ಚ. ನಾನು ಅವರೋಡೆ ಪೋರಪ್ಪಡಿ ಇಲ್ಲೆ. ambulanceಲೆ ಅವರು ಮಾತ್ರೊ ಪೋಯಿ admit ಆನಾರ್. Government hospitalಲ್ಲೆ ನನ್ನಾವೇ treatment ಪಣ್ಣಾ.
ನಾನು ಕರೋನಾ +ve ಇರಂದಾಲೋ ಪೋ
ಯಿ ಪಾಕ್ಕರಪ್ಪಡಿ ಇಲ್ಲೆ. ಓದಿಂದಾಲೋ ಫೋನ್‍ಲೆಯೇ. ಅಂಗೆ ಒರು ವಾರೊ ಇಕ್ಕಣೊ ಅನ್ನ. ಒರು ವಾರತಕ್ಕು ತುಣಿ, ಪೇಸ್ಟ್, ಬ್ರಷ್, ಸೋಪು, ಎಲ್ಲಾ ಅನಪ್ಪಿ ಅನ್ನುಟು ಫೋನ್ ಪಣ್ಣಾರ್. ಯಾರ್ ಕೊಂಡು ಪೋಯಿ ಕುಡುಕ್ಕರಾ? ಕೋವಿಡ್ ಅನ್ನಾಲೇ ಎಲ್ಲಾರಕ್ಕೋ ಒರು ಥರಾ ಭಯೊ. ಅಪ್ಪರೊ, ಎಂಗಡೆ neighbour ಪಾಪೊ, ಒತ್ತುಕೊಂಡಾ. ಅಂದ್ ಬ್ಯಾಗೆ ರಡಿ ಪಣ್ಣಿ ವಾಷಲ್ ಮುನ್ನೆ ವೆಚ್ಚಿ ಕದವು ಚಾತುಟೆ. ಅಪ್ಪರೊ ಅವೋ ವಂದು ಅಂದ ಬ್ಯಾಗ್‍ಕ್ಕೆಲ್ಲಾ sanitizer spray ಪಣ್ಣಿ, ವಾಂಕೊಂಡು ತಲಿಪಿಚ್ಚಾಂ, ಪುಣ್ಯಾತ್ಮ.
ಇಂಗೆ ಎನಕು ಮೊದಲೆಯೇ ಒಡಂಬ್, ಮನಸ್ಸು ಸರಿ ಇಲ್ಲೆ, ಅತ್ಮೇಲೆ ಇಂದ BBMPಕಾರ phone ಪಣ್ಣಿ, "Madam, ನೀವು 60 ವಯಸ್ಸಾದರಿಂದ ಮನೆಯಲ್ಲಿ ಒಬ್ಬರೇ ಇರಬೇಡಿ, ನೀವು admit ಆಗಿ" ಇಪ್ಪಡಿ ಫೋನ್ ಮೇಲೆ ಫೋನ್ ಪಣ್ಣಿ ಪ್ರಾಣೊಂ ವಾಂಕೊಡಿರಿಂದ. ನಾನ್ ಎನಕ್ಕು ಕಡಿಮೆ symptoms ಇಂದು, ಜ್ವರೊ ಇರಕ್ಕವಿಲ್ಲೆ (ರಂಡು ನಾಳ್ ಜ್ವರೊ ಇರುಂದಾಪ್ಪೊ ಮಳಹು ಚಾತಂಬ್ ಪಣ್ಣಿ ಸಾಪ್ಟಾರ್ದೊ ಕಡಿಮೆಯಾಚಿ). ಆನತನಾಲೆ BBMPವಾಳೋಡೆ ಶಂಡೆ ಪೋಟು "ಏನೂ smptoms ಇಲ್ಲದೇ ಇರುವಾಗ admit ಆಗಲ್ಲ" ಅನ್ನುಟ್ಟು firmಆ ಚೊನ್ನೆ. ಅಪ್ಪೊ ಎನ್ನೆ ಉಟ್ಟ, ಸದ್ಯ. ಒನ್ನೊ ಇಲ್ಲಾದೆ ಯಾರ್ ಆಸ್ಪತ್ರೇಲೆ ಪೋಯಿ ಅವಸ್ಥೆ ಪಡರಾ.
ಸರಿ, BBMPವ ಉಟ್ಟಾ ಅನ್ನಾಕ "ಆಪ್ತಮಿತ್ರಾ" ಪುಡಿಚುಕೊಂಡ. ಫೋನ್ ಆರ್ದೊ ಫೋನ್, ಕಾಲ್ ಪಣ್ಣಿ ಪಣ್ಣಿ ಕೇಟಿಂತ್ಯೇ ಕೇಟ್ಕೊಂಡಿಂದ. "ಮನೇಲಿ ಎಷ್ಟು ಇದ್ದೀರ, ವಯಸ್ಸೆಷ್ಟು, symptom ಏನಿದೆ" ಇತ್ಯಾದಿ. ಇತ್ನೆಲ್ಲಾ care ಪಣ್ರಾಳ, ಪರವಾಯಿಲ್ಲೆಯೇ ಅನ್ಕುಂಡಿರಂದಾಕ, ಒತ್ತಾಳೊ ವರವಿಲ್ಲೆ, covid kit ಕುಡುಕವಿಲ್ಲೆ, ಒನ್ನೋ ಇಲ್ಲೆ.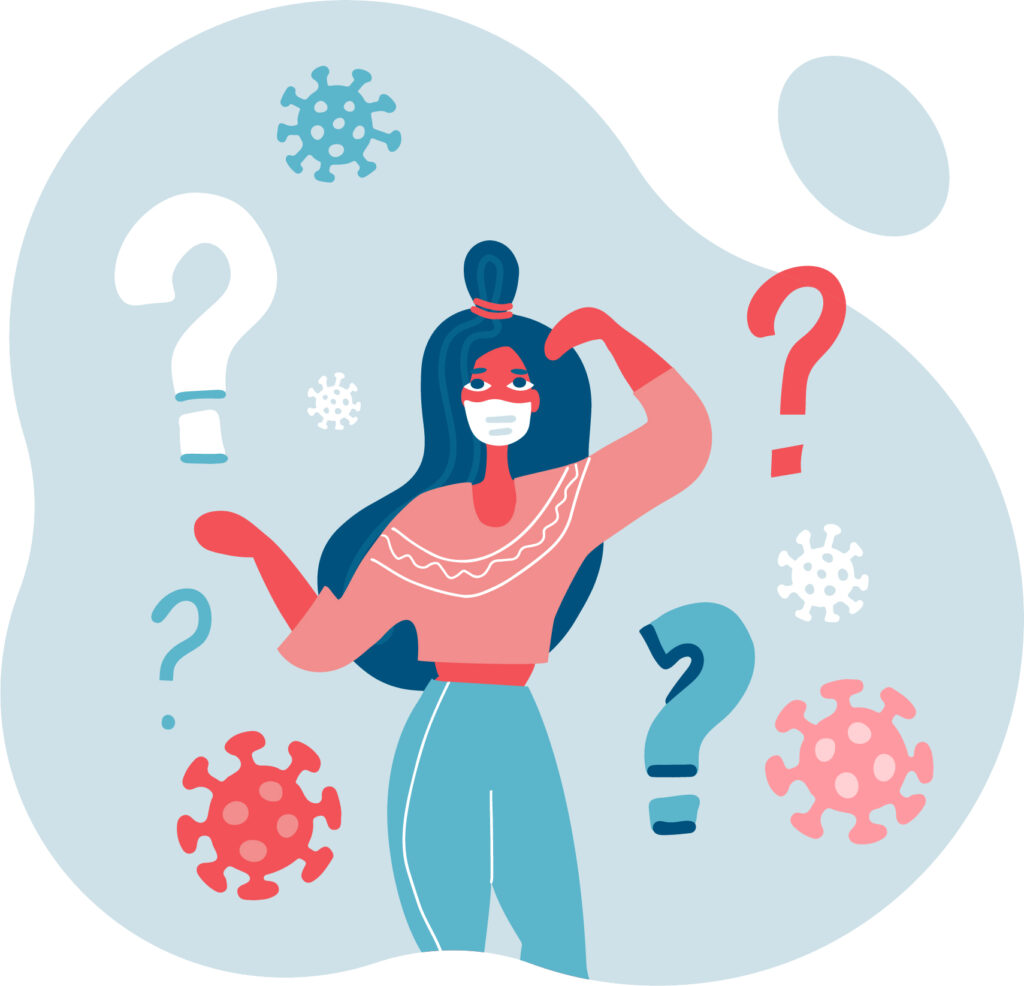 ರಂಡಾ ನಾಳ್‍ಆರ್ದೋ Government Hospotal ಇನ್ನೋ ಫೋನ್ ವಂದು. "ನಾನು ಡಾಕ್ಟರ್ ಮಾತಾಡ್ತಾ ಇದ್ದೀನಿ, ನಿಮ್ಮ husbandನ condition ಸ್ವಲ್ಪ ಗಂಬೀರವಾಗಿದೆ. oxygen ಕೊಟ್ಟಿದ್ದೇವೆ. ಇನ್ನೂ condition worse ಆದರೆ, ಬೇರೆ ದೊಡ್ಡಾಸ್ಪತ್ರೆಗೆ admit ಮಾಡಬೇಕಾಗುತ್ತೆ". ಎಂಡೆ heart thumped. ನಾನು, "ನಿಮ್ಮ ಹತ್ತಿರ ಎಲ್ಲಾ facility ಇಲ್ಲವಾ?, ಇಲ್ಲಾ ಅಂದರೆ ಈಗಲೇ ಶಿಫ್ಟ್ ಮಾಡಿ, serious ಆಗೋ ತನಕ ಯಾಕೆ ಕಾಯಬೇಕು?" ಅತಕ್ಕು ಅವ, "ಸರಿ ಹಾಗಾದರೆ, ವಿಕ್ಟೋರಿಯಾ ಅಥವಾ ಕೆಸಿಜಿ hospitalನಲ್ಲಿ ಇದೆಯಾ ಅಂತ ನೋಡುತ್ತೇವೆ, privateನಲ್ಲಿ ಸೇರಿಸಬೇಕಾದರೆ ನೀವೇ book ಮಾಡಿ, ambulance ತರಿಸಿಕೊಳ್ಳಬೇಕು." ನಾನು ಸರಿ ಅನ್ನುಟ್ಟು, ಎಲ್ಲಾ hospitalಲ್ಲೆಯೋ ಫೋನ್ಲೆಯೇ ಟ್ರೈ ಪಣ್ಣಾಕ, ಎಂಗೊ ಶಿಕ್ಕಾದೆ, ಕಡಶೀಕಿ Sparsh ಯಶವಂತಪುರ್‍ಲೆ ಬೆಡ್ ಶಿಕ್ಕೀತು. ಇಂದ್ ವಿಶಯಂ Governemt Hospitalಕ್ಕ್ ಚೊನ್ನಾಕ, "ನಾವು ವಿಕ್ಟೋರಿಯಾದಲ್ಲಿ bed book ಮಾಡಿ ಆಯಿತು, ambulance book ಮಾಡಿ ಆಯಿತು, ಈಗ ಹೇಗೆ ಬೇರೆ hospitalಗೆ ಕರೆದುಕೊಂಡು ಹೋಗುತ್ತೀರ? ಅದೆಲ್ಲ ಆಗಲ್ಲ." ಅನ್ನೂಟ. ಅತುಕು ನಾನು "ನಮಗೆ ಈಗತಾನೆ Sparsh Hospitalನಲ್ಲಿ ಒಂದು bed ಸಿಕ್ಕಿದೆ. ವಿಕ್ಟೋರಿಯಾದು cancel ಮಾಡಿ. ನಾವೇ ambulance arrange ಮಾಡ್ತೀವಿ" ಅನ್ನುಟು ಅವಾಳೆ convince ಪಣ್ಣ್‍ರತುಕ್ಕುಳ್ಳೆ ಸುಸ್ತಾಯಿಪೋಚು. ಆವ, "ಹಾಗಾದರೆ, ಆ hospitalನಿಂದ bed book ಆಗಿದೆ ಅಂತ ಒಂದು letter ತರಬೇಕು." ಅನ್ನ. ಇತಕೆಲ್ಲಾ ಓಡಿಯಾಡರತಕ್ಕು ನಾನು ಪೋರಪ್ಪಡಿಯೇಇಲ್ಲೆ. ಅಂದ Sparsh Hospital ವಾಳೆಯೇ "ambulance with oxygen ಕಳಿಸಿ, bed book ಆಗಿದೆ ಎಂದು letter ಬರೆದು, ಅದನ್ನ ambulance driver ಕೈಲಿ ಕೊಟ್ಟು ಕಳಿಸಿ" ಅನ್ನುಟ್ಟು ಏರ್ಪಾಡ್ ಪಣ್ಣೆ.
ಇನ್ನೊ ಅವಾಡೆ ಕಡೆಯಿನ್ನೊ action ಬಾಕಿ. ಎನಕೋ ಒರೇ tension, ಇಂದ್ hospitalಕಾರ ಎನ್ನ ತಕರಾರ್ ಪಣ್ರಾಳೋ, ಅಂದ್ hospitalವಾ ambulance ಅನಿಪಿಕ್ರಾಳೋ ಇಲ್ಲೆಯೋ, letter ಕುಡುಕ್ರಾಳೋ ಇಲ್ಲೆಯೋ, ambulance ಪರಡರತ್ನೇಕುಳ್ಳೆ letter ರೆಡಿ ಪಣ್ರಾಳಾ, ಅಂದ್ ambulance driver ಅತ್ತೇ ಸರಿಯಾ ಕೊಣಂದ್ ಕುಡುಕ್ರಾನಾ, ಅಂದ letter Government Hospitalಲೆ ಒತ್ತುಕೊಂಡು ಇವರೇ ಅನಿಪಿಕ್ರಾಳಾ, ಇದೆಲ್ಲಾ ಬೇಗ್ ಬೇಗೋ ಆರ್ದಾ? ಎಲ್ಲ Government Hospitalಲೆಯೋಂ ಅವ ಶೊನ್ನಪ್ಪಡಿ ನಾಂಬಳ್ ಕೇಕ್ಕಣೊಂ. ವೇರೆ option ಇಲ್ಲೆ. ಆನಾಕ, ಇಂಗೆ ನಾಂಬಳೇ ಅವಾಳಕ್ಕ್ order ಕುಡುತ್ಕೊಂಡಿರ್ಕೋಂ "ambulance with letter ಬರ್ತಾ ಇದೆ. ಇವರಿಗೆ ಬಹಳ ಸುಸ್ತಾಗಿರೋದ್ರಿಂದ ಮಹಡಿ ಮೆಟ್ಟಲು ಇಳಿಯಕ್ಕಾಗಲ್ಲ. ಅದಕ್ಕೆ wheel chairನಲ್ಲಿ ambulanceವರೆಗೆ ಬಿಡಿ" ಅನ್ನುಟು ಫೋನ್‍ಲೆಯೇ instruction ಕುಡುತೇ. ಸರಿ ಎಲ್ಲಾ ಸುಗಮಮಾ ಇಪ್ಪೋವರುಕ್ಯೋ ಆಚಿ. ಒನ್ನೊ ತಕರಾರಿಲ್ಲಾದೆ ambulanceಲೆ ಇವರೆ Sparsh Hospitalಲ್‍ಕ್ಕು ಆಳೆಚ್ಚಿಕೊಂಡು ಪೋನ, ಅಂಗೆ ಇವರು admit ಆನಾರ್.
ಇವರಕ್ಕು 5-10 days ಇರಕ್ಕುಣೋಂ ಅನ್ನುಟು ಚೊನ್ನ. ಅವರ್ ಅಂಗೆ admit ಆನಾರಾ, ಇಂದ್‍ಕಡೆ ಎಂಡೆ ಪಣ್ಣಕ್ಕು Covid+ve ಆಯಿ ಜ್ವರೋಂ ಕಡಿಮೆಯೇ ಆಕ್ಕೊಂಡಿಕ್‍ವಿಲ್ಲೆ. ಆಸ್ಪತ್ರೇಕ್ ಚೇಕಲಾಂ ಅನ್ನುಟ್ಟು Columbia Asiaಕ್ ಪೋನಾಕ, ಅವ "ಕೂತಿರಿ, bed ಕಾಲಿಯಾದರೆ ಸೇರಿಸಿಕೊಳ್ತೀವಿ" ಅನ್ನ. ಇವಳಕ್ಕು 10 ಮಾಸತ್ ಪಶಲ್ ಇಕ್ಕರ್ನಾ. ಪಾಪಾವೆಯೋಂ ವಚ್ಚ್ಕೊಂಡು 1 ಮಣಿ ಕಾಲೊ ಕಾತಾಲೋಂ bed ಶಿಕ್ಕಾದೆ ಹಾತಕ್ ವಾಪಸ್ ಪೋನಾ. ಇಪ್ಪಡಿ ರಂಡ್ ವೀಶಿ ಆಚಿ. ಅಪ್ಪರೋ Sparsh ರಾಜರಾಜೇಶ್ವರಿನಗರ್‍ಲೆ, special room with attendent ವಾಂಕೊಂಡು, ನಾನು ಅವಳೋಡೆ helpಕ್ ಪೋನೆ. ಇವಳಕ್ಕು IV, oxygen ಎಲ್ಲಾ ಪೋಟಿಂದಾಕ, ಪಾಪಾವೆ ಅಪ್ಪಡಿ ಅಡತ್ತುಕೋರಾ.
ಒರು ಆಸ್ಪತ್ರೆಲೆ ಎಂಡೆ ಯಜಮಾನ್ರ್, ಇನ್ನೊರು ಆಸ್ಪತ್ರೆಲೆ ಎಂಡೆ ಪಣ್ಣ್. ಎನ್ನ ಪರೀಕ್ಷೇಪ್ಪಾ ಇದು, ಪೆರುಮಾಳೇ. ಪಾಪವೆ ಪಾತ್‍ಕೋರ್‍ದ ಒನ್ನೋ ಸುಲಭೊ ಅನ್ನು, especially Covid+ve ಆಯಿ ಸುಸ್ತಾಯಿರಂದಾಕ. ನಾನೋಂ ಒರೇ ಬಿಸಿಯಾಯಿರಂದೆ. ಅವರ್‍ಡೆ oxygen level ಎತ್ತನೆ ಇಕ್ಕರ್ನಾ, ಇವಳ್‍ಡೆ ಜ್ವರೋಂ ಕಡಿಮೆಯಾಚಾ, ಅವರ್‍ಡೆ ಡಾಕ್ಟರ್ ಎನ್ನ ಚೊಲ್ರಾ, ಇವಳ್ಡೆ ಡಾಕ್ಟರ್ ಎನ್ನ ಚೊಲ್ರಾ, ಅನ್ನುಟು. ಆನಾಕಾ Sparsh Hospitalಲ್ಲೆ ರೊಂಬ ನನ್ನ treatment ಆಚಿ. ಪೆರುಮಾಳ್ಡೆ, ಡಾಕ್ಟರ್‍ದೆ, ದಯೆಯಿನ್ನೊಂ ಇವಳೆ 6 ನಾಳಕ್ಕೆ ಡಿಸ್ಚಾರ್ಜ್ ಪಣ್ಣ, ಅವರೆ 12 ನಾಳ್ ಆರ್ದೊಂ ಡಿಸ್ಚಾರ್ಜ್ ಪಣ್ಣ. ಇವರ್ ಡಿಸ್ಚಾರ್ಜ್ ಆನನ್ನೀಕಿ ಎನಕೋ ಪಂಡಿಗೆ ಅನ್ರಾಪ್ಡಿ ಸಂತೋಷೊಂ.
ಅಂತೊಂ ನಾಂಗ್‍ಳ್, ಕರೋನಾವೆಯೋಂ ಗೆದ್ದು ವಂದುಟ್ಟೋಂ. ಇಪ್ಪೊ ಕರೋನಾಡೆ ಎತ್ತನೆ ವಿಷಯೋ ತೆರಿಯೋಂ ಅನ್ನಾಕ, ಎಂಗ್‍ಡೆ friends, relatives ಎಲ್ಲಾ ಎಂಗ್‍ಳೆ consult ಪಣ್ರಾ. ಅತ್ತನೆ ಆನುಭವೋಂ ವಂದುಟ್ಟಿಕ್ಕರ್ನ.
---
Intensive Interning In The Pandemic
– Divya M.A
13th March 2020, we friends said bye to each other thinking we would meet after a relaxing week. Working tirelessly for years, we thought a week off would seem like a year off. But hey wait…. Who knew that would actually turn into one year? For the millennials or the Gen Z, it is Before Corona(BC) and  After Corona(AC), pre lockdown and post lockdown, who knew we such terms existed?! 
The whole world experienced it in a way while the healthcare professionals faced it in another. Surgeries, cardiology, nephrology, the lines between the department all became a blur, the departments got combined and had to work as a single unit against the virus. Outpatient department were empty while all of them who came had to get temperatures checked, nose and throat swab done, the routine checkups changed overnight. The doctor patient relation now had a distance of 6 feet. Treating patients became monotonous as all of them had to be treated for the virus now. All other diseases seemed non-existent for that period. 
Breathing fresh air freely looked like a crime as everyone was masked up, removing the mask in open space was looked down upon and pure air was supplied through oxygen tanks. For us, the outside weather did not seem to bother much as wearing the PPE kit made it feel like dessert weather. In a weird sense, life had come to a standstill though the virus was making its progress rapidly. Day after day, treating patients with the same medicines – some made it through while some did not. We had to keep all our emotions aside and treat the patients, imagining ourselves to be a robot. 
 Without any set guidelines, no idea about what new we would discover the next second about the disease, we continued to put in our efforts. Seeing so many people lose their lives every day was a harsh reality. Sleepless nights, countless doctors, continuous monitoring, various medications and endless prayers, we hoped all this would save the patient and they go back to their homes to experience the new normal. 
What we thought would end in the year 2020 has extended upto the next year. Being up close in this situation makes me scared and yet thankful that my close ones and I are safe and healthy currently. Being at home and doing nothing is what we all wished for I guess, but who knew it would happen this way right? Probably we have to find our silver lining on every cloudy day; I guess this is the time to do it.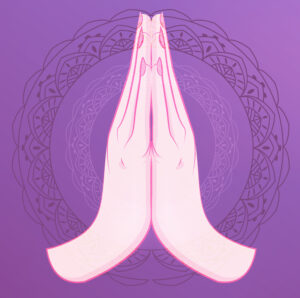 The things we thought were a curse are the same things which are bringing us close at this point of time. Video calls and interaction with patients, their family members and our own family members is now the new way of interaction. I guess suddenly all the age old Indian traditions of washing hands and legs as soon as we enter the house, changing our clothes and doing the traditional Namaste made perfect sense. I guess the new normal, instead of a hi and a hug, is Namaste now!
---
Health Care Management During The Pandemic
– Dr.Roopashree.M.Rangayyan, Asst Prof., SIHS, SIU(DU)
Being in the health care management sector for almost two decades, we knew that this lockdown costs more lives and the functional capacity of others will be crippled. I am sharing my professional experience during this Pandemic. As there was a deluge of information from the internet and social media, the situation was well providing us clues for better preparations. Initially, I was involved in collecting all the protocols and guidelines from different websites, which were modified multiple times by the ICMR, WHO, MOHFW web portals, just to understand the mammoth wave of a pandemic that would strike different parts of the world.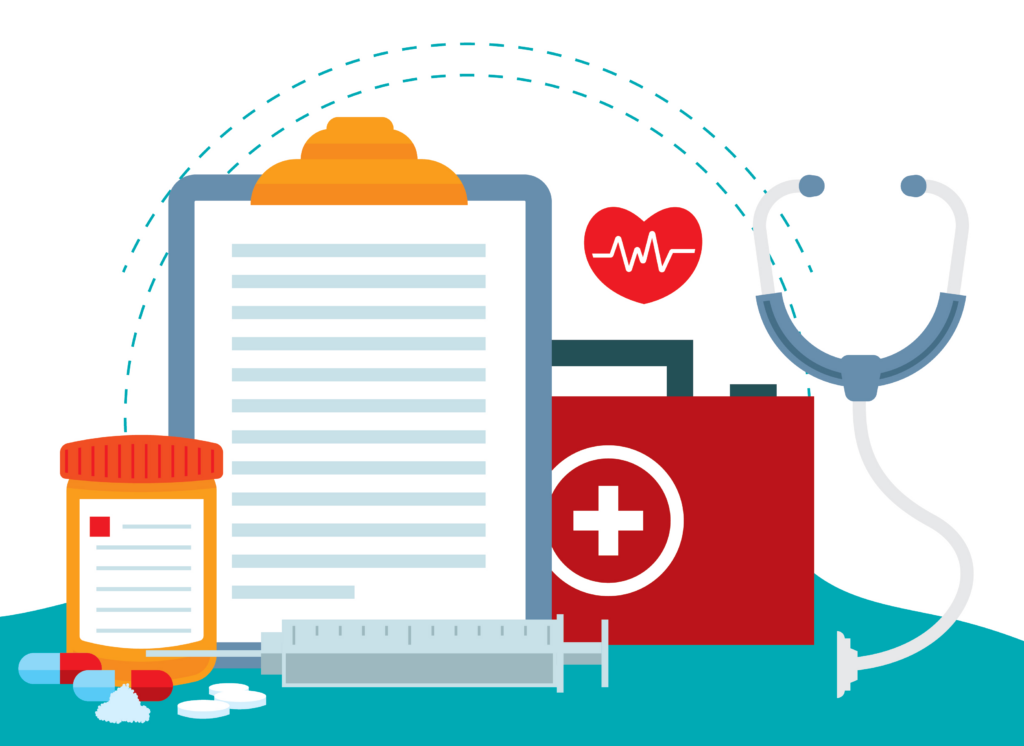 In the working arena, I was accustomed to interacting with 400-500 people like students, colleagues, office staffs, front line health care workers on day-to-day basis. Suddenly, order from the university head to work from home was a blessing in disguise. We wanted to utilize this opportunity to enhance knowledge, skills, and ability. Being in the academic sector was an added advantage. We attended numerous webinars almost spending 12-15 hours per day on different topics of health care management.
Teaching and providing professional management lectures became real-time and online. This allowed exploring different platforms like zoom, teams, CiscoWebEx, google meet, etc. Practically from the physical mode of teaching, we started operating real-time online mode education, catering to different parts of the Indian sub-continent where our students would log in and listen. The synchronized and Asynchronized mode of educating was a delight and convenient too. 
To my surprise, I was nominated for the induction program in-charge of my institute.  We conducted this series of health care management programs with multiple international delegates. Since no travel and no Facility arrangements were required, the event was cost-effective, efficient and time management was appropriately performed.
On the 25th of March 2019, when the Indian government gave a green signal for telemedicine to be functional, a whole box of ideas opened. There were numerous possibilities for us to explore. 
We attended the webinars, training for doctors conducted by the Ministry of health to understand the Nitty-Gritties and how to practice telemedicine. The passion for telemedicine made us undertake this as a project. We knew there is no end to the madness of science and technology in this digital world. To commission telemedicine in a superspecialist hospital, we got immersed in resource allocations, vendor analysis meetings, techno commercials, auditing, scientific expert inputs, and advisory body member as a representative. We attended training programs as a doctor and as hospital administrator also. This was bliss and enjoyed every moment of the technical encounters. 
We conducted webinar series on telemedicine and this is now available on YouTube. We had sown the seeds of telemedicine and digital technology to our MBA-HHM students who 16 of them took Summer internship projects in the telemedicine sector in different parts of India. The excitement became a blast when these students delivered deliberations on telehealth and telemedicine for 3 long days with the theme "Distance does not matter, India Emerging as a leader in telemedicine". Post webinar, we wrote research papers, journal articles for publications on international websites. 
Our organization took a call to make sure we work on the campus on online mode from November 2020 and our students are still working from home mode. This gave us more time to prepare teaching aids like ppt Presentations, attend and anchor webinars every Saturday with technology in a cutting-edge model. We planned and participated in webinars and invited stalwarts to provide inputs on Artificial Intelligence and Machine learning, Internet of things, Wearable devices, Organ donation, Robotics and automation in health care, Remote consultations with specialists, targeted treatments, and the availability of intuitive mobile apps, Big data analysis, etc.
On the professional growth, redefining ourselves with different training programs, the capacity building gave us the opportunity to remotely attend the confidential meetings which were conducted by the MOH and health authority of India. The Government of India had roped us for auditing the health care facility during the pandemic to see for the seamless functioning of the hospital. With WHO and MOHFW collaboration, these confidential online training programs were given to many health care quality auditors for redefining and understanding the new normal
Being a technocrat, we executed to optimize our resources to hop and jump from one web portal to another to teach Master of business management students, Masters of public administration, and distance education students too. The versatility aspects being a Faculty of management, we redefined our thought process to understand, assimilate newer dimensions of Business communication, Talent management, Business intelligence, Health insurance, and Quality and Accreditation in health care.  Playing with different fields of health care management and getting a taste of this combo offer, we worked on the students' projects, dissertations, articles, and research papers at odd hours. Conducting exams on a virtual platform was a challenge. With the help of IT support, term end exams were conducted seamlessly and results declared online. 
The outcomes were numerous e-certificates on topics related to newer innovations and transformation in health care as a service sector. Faculty development programs gave us insights into the incorporation of internationalization.  
The research was the stepping stone during the Pandemic. Since hospital protocols were laid, structured data was available regarding hand wash hygiene, personal protective devise usage, and hospital-acquired infections where we analyzed and interpreted for documentation purposes and utilized it for Scopus, high impact research paper publications. 
As the world is one family, in this digital era, managing others' lifestyles, diseases, disorders, and disabilities and contributing to the health and safety of the needy gave intense joy and satisfaction. Practicing evidence-based Medicine and evident based medicine to provide high quality care is the need of the hour. Mind and muscle are alike, the more you use them the stronger they become. The new normal enhanced our capabilities and made us "Athmanirbhar".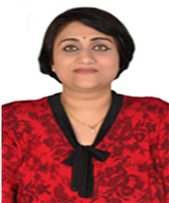 Qualifications of the author Dr.Roopashree Rangayyan –  M.B.B.S., M.H.Sc.(Diabetology), M.H.A., M.B.A., P.G.D.H.H.M.,PG. DACG., PG.QM& AHO., Dip CMH., Principle Internal Lead Assessor NABH, NQAS External Assessor, (Ph. D, in Finance & Management in Health care)
---
Virtual Classes In COVID Era
– Mythili Srinivas
I always feel proud of my profession. It is the only profession which gives rise to all other profession. We teachers never work for the income but for the outcome.
The Pandemic times were a learning for all teachers to jump into the world of virtual teaching –  which was totally unknown and unheard (at least in our country.) In my case, it was a blessing in disguise that my 2 grown-up son's (doing their masters & bachelors respectively) were at home because of the same reason. They were my actual teachers. It was like training the trainer. My house became a workshop for everyday learning. Even my husband, a banker, helped me to understand excel sheets.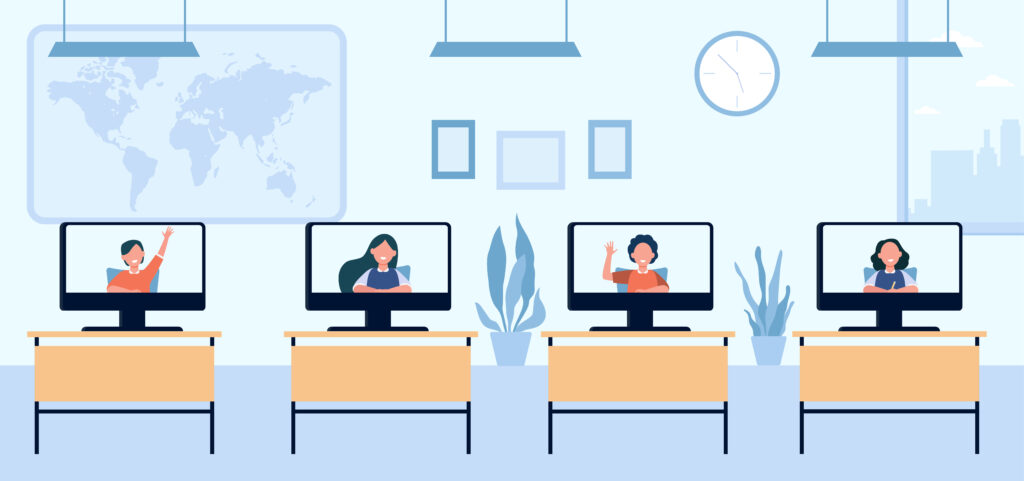 Though I had the experience of using smart boards at school, some things were totally new. No doubt we were given some training from the Institution, before we started the online sessions. But the actual challenges were known, only when we started the sessions on our own. At that stage, my sons were of help. Right from "share screen, work on multiple tabs & switch to audio/video, supervising the multiple students while teaching, doing power point presentation innovatively, conducting quizzes, games using the keys provided by zoom etc., I learnt it all & can now operate smoothly. All these made me more confident, changed my perspective towards others, and made me more humble, more humane. It was fun being a student to your own children. 
More astonishing is that fact that today's kids of age 10-12 (the age group whom I teach-grade 6 & 7) are smart & tech-savvy but lag behind in spellings, are unable to comprehend properly,  have short memory and their handwritings are not legible. They lack social skills and shy away by distancing themselves from others and more & more kids are turning into introverts! Maybe these are the most annoying impacts that these electronic gadgets have on growing kids.
To sum up, it is an advantage for students as virtual classes provide flexibility, anonymity, accessibility & mobility to name a few major points. Similarly it is a disadvantage for teachers, as the major concern is the quality of effective learning suffers, internet connection can have  issues, smooth flow of teaching is disrupted because of technical glitches, time consuming/wastage of time because of lack of computer skills, rise in dishonesty of students (both in live classroom sessions & in tests & exams),  minimal supervision etc,.
The common factors which both teachers & students miss are, meeting each other face-face, giving high-fives, exchange of books, playing team games, exchange of lunch boxes among children, patting as part of appreciation, hugging as part of care & concern, basically the personal touch & personal attention which have taken a back seat and are the most significant elements in schooling & growing years of children that connects individuals emotionally. However, once the rapport is built in any relationship, all other things will fall in place automatically.
Hopefully coming days will bring about changes and help us to bridge the wide gap made in this so called COVID era.
---
Pressures On The Healthcare System
– Ramya Jayasimha
The past year has been a very difficult and different one. The COVIS 19 pandemic caused by the SARSCoV 2 virus has caused a drastic change in the way that we live our lives, and no area more so than healthcare.
It has been surreal seeing the world change so drastically.  Being in lockdown with the rest of the world was a very weird experience. We could not travel, meet our loved ones or even get out of the house, and the feeling of being cooped up was oppressive at times. However, I felt like there were some positives to appreciate. There was finally time to learn some new skills, reconnect with those I hadn't spoken to for a while, and to just appreciate the stillness of life for a while.
As a postgraduate doctor [MD Microbiology] working in Victoria hospital right now, I got to witness the first-hand effects of this unprecedented situation. Victoria was designated as a fully COVID hospital last February. I have been involved in screening, diagnosis, in the VRDL lab, conducting RTPCR, antigen testing and research. 
This has been a situation that nobody ever expected to face in their lifetimes. All the theory about pandemics in our textbooks has suddenly come to life. The sheer number of people requiring ICU care was overwhelming both logistically and emotionally. One thing that lockdown accomplished was that it gave the healthcare system time to step up the infrastructure to meet the demand. The lab at Victoria, which initially used to process a hundred samples per day, now processes upwards of five thousand from all over Karnataka. 
Wearing PPE and working was challenging. Six hours with no breaks in an extremely hot and sweaty suit was frustrating. We would frequently get bruised noses at the end of our shifts due to the airtight N95 masks, and our hands were constantly chapped due to sanitizer. The PPE consisted of 3 layers of jumpsuits and aprons and took around 30 minutes to get on and off. Apart from that, quarantining from my own family while doing COVID duty was tough. Constant video calls were a lifeline to the outside world.
The frustration of working in such conditions, to then be met by lax attitudes like, the virus "isn't that serious" or "we'll get over it", is frustrating to say the least. Over 11 million people have been affected in India with over 158 thousand deaths, of which my grandfather has been one. The situation may be experiencing a short lull, but it is by no means an excuse to stop being alert. 
If there is one thing that we have learnt from the last year, it is that the world can change at any time. I urge everyone eligible to take the vaccine, continue personal precaution, maintain distancing measures, and be constantly vigilant.
(This article was written before the second wave, as the reader may realize)
---
Lockdown Times – A Boon In My Life
M.S.Vikram
S/o M.S.Vijaya Narayan
Mandyam Thondanoor (Shirasthadar) family
When the whole world was inquisitive about the vaccine to overcome the pandemic, I was anxious about my new offspring expected to come in April 2020. The pregnancy period of my wife passed without any significant incident. It was a pleasurable moment to feel the movement of baby inside the belly of the mother. Indirectly I too used to share the pangs of sweet pain of childbirth. 
As luck would be, the pandemic, which was a curse worldwide, was in fact, a boon in my life. I was instructed by my company to work from home, I was given a lot of cushion to be with my pregnant wife assisting her in all the chores. As D day arrived, I was pacing heaven to earth for the result, more anxious than an IAS aspirant. Finally,as scheduled on the 7th of April 2020, my apple of the eye, beloved Viharika Athrey came down to earth from heaven. By god's grace, it was a natural childbirth without any hassle and complications. 
As I was working from home, I was able to monitor and watch her growth from day 1 onwards and I fully enjoyed the responsibility of parenting. I realised how the bonding develops between father and daughter. I could visualize the thread of bonding between child and the parents.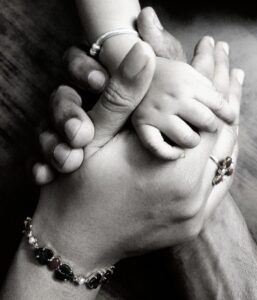 There is also a dark lining for every silver cloud, which means that there was a ban for movement of vehicles intra district due to lockdown. My parents were in Bangalore whereas my wife was in her mother's house at Mysore. Shuttling between Bangalore and Mysore during the traffic restrictions and permits was managed by me with lot of prudence. However, I could travel intra district with zero traffic, which was another blessing. 
Getting the basic toiletry and miscellaneous items was a nightmare as all the malls and infancy stores were completely locked during the pandemic lockdown phase I & II. With all these challenges, we managed to bring up the child into a healthy baby with normal growth. Thanks to my parents, in-laws and my wife for all the efforts and endurance they put up during the crisis period. 
My heartfelt thanks to friends and relatives for sparing the essential and vital items for the new baby and mother during the crisis. Now there is girl who stole my heart, she calls me Ayya.
---